Car Transporter . Case Succeeds', T HE' first. application for a car
19th December 1958
Page 42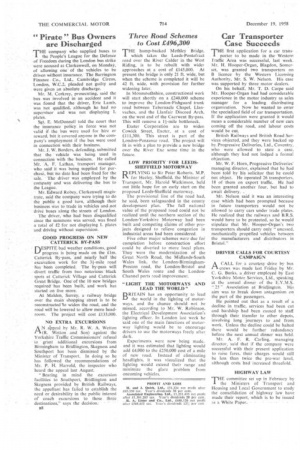 Page 42, 19th December 1958 —
Car Transporter . Case Succeeds', T HE' first. application for a car
Close
trans. porter to be made in. theWestern Traffic Area was succeSsful, last week, Mr. H. Hooper-Organ, Blagdon, Somerset, was granted two transporters on B licence by the Western Licensing Authority, Mr, S. W. Nelson. 'His case was supported by three motor dealers.
On his behalf, Mr. T. D. Corpe said Mr. Hooper-Organ had had considerable experience in the motor industry as sales manager for a leading distributing organization. Now he wanted toenter the specialized field of car transportation. If the application were granted it would mean a considerable number of new cars coming • off the road, and labour costs would be cut.
British Railways and British Road Services objected, and they were backed up by Progressive Deliveries, Ltd., Coventry, who were allowed to state a case, although. they had not lodged a formal objection.
Mr. W. F. Horn, Progressive Deliveries' managing director, explained that he had been told by his solicitor that he could not object. He Operated 26 transporters, 18 of • them on export traffic. He had been granted another four, but had to await delivery. " . Mr. Nelson said it was an interesting case which had been prompted because in future transporters would not be allowed to carry cars under trade plates. He realized that the railways and B.R.S. would have to be protected, so he would stipulate that Mr. • Hooper-Organ's two transporters should carry only " uneased, mechanically propelled vehicles between the manufacturers and distributors in Bristol."
DRIVER CALLS FOR COIJRTESY CAMPAIGN
A CALL for. a courtesy drive by bus in. crews was Made last. Friday. by. Mr. C. G. Burks, a "driver employed by eastYorkshire Motor Services, Ltd., speaking. at the 'annual dinner of the E.Y.M.S. " 251'. Association at BridIington, His aim was to break down antagonism on the part of the passengers.
He pointed out that asa result of a decline in traffic, services had been cut and hardship had been caused to staff through their transfer to other depots, involving long journeys to and from work. Unless the decline could be halted there would be further redundancy before the next annual dinner was held.
Mr. A. F. R. Carling, managing director, said that if the company were successful with their present application to raise fares, their charges would stilt be less than twice the pre-war level, although costs had increased threefold.
HIGHWAY LAW
'THE committee set up in February by I the Ministers of Transport and Housing and Local Government to study the consolidation of highway law have made their report, which is to be issued as a White Paper. • •