£1.3m. Paid in Fines Last Year
19th December 1958
Page 37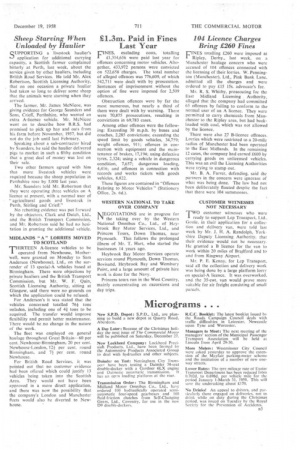 Page 37, 19th December 1958 —
£1.3m. Paid in Fines Last Year
Close
FINES, excluding costs, totalling £1,314,656 were paid last year for offences concerning motor vehicles. Altogether, 433,972 persons were convicted on 522,658 charges. The total number of alleged offences was 776,609, of which 542,711 were dealt with by prosecution. Sentences of imprisonment , without the option of fine were imposed for 2,509 offences.
Obstruction offences were by far the most numerous, but nearly a third of them were dealt with by warning. There were 70,875 prosecutions, resulting in convictions in 69,783 cases.
Among other offences were the following: Exceeding 30 m.p.h. by buses and coaches, 2,285 convictions; exceeding the speed limit by goods vehicles, 34,759; weight offences, 911; offences in connection with equipment and the maintenance of brakes, 17,194; using defective tyres, 2,324; using a vehicle in dangerous condition, 7,657; dangerous loading, 4,416; and offences in connection with records and works tickets with goods vehicles, 8,822.
These figures are contained in "Offences Relating to Motor Vehicles" (Stationery Office )s 6d ) WESTERN NATIONAL TO TAKE OVER COMPANY NIEGOTIATIONS are in progress for I the taking over by the Western National Omnibus Co., Ltd., of Heybrook Bay Motor Services, Ltd., and Princess Tours, Down Thomas, near Plymouth. This follows the prolonged illness of Mr. T. Hart, who started the businesses 14 years ago.
Heybrook Bay Motor Services operate services round Plymouth, Down Thomas, Bovisand, Heybrook Bay and Wembury Point, and a large amount of private hire work is done for the Navy.
Princess tours. run in the West Country, mainly concentrating on. excursions and day trips.