Wide Conditions for Low-loader
19th December 1958
Page 36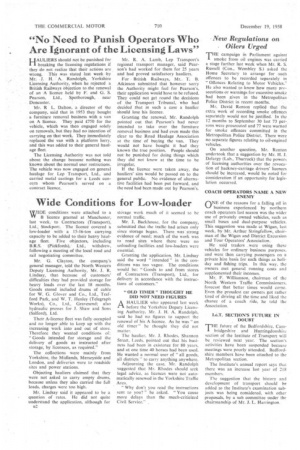 Page 36, 19th December 1958 —
Wide Conditions for Low-loader
Close
WIDE conditions were attached to a
B 'licence granted at Manchester, last week, to Contractors (Transport), Ltd., Stockport. The licence covered a low-loader with a 15-16-tan carrying capacity to be added to their heavy haulage fleet. Five objectors, including B.R.S. (Pickfords), Ltd., Withdrew, following a meeting of the local road and rail negotiating committee.
Mr. G. Clayton, the company's general manager, told the North Western Deputy Licensing Authority, Mr. J. R. Lindsay, that. because of customers' difficulties they had provided storage for heavy loads over the last 18 months. Goods stored included drums of cable for W. G. Glover and Co., Ltd., Trafford Park, and W. T. Henley (Telegraph Works), Co., Ltd., Gravesend; also hydraulic presses for J. Shaw and Sons (Salford), Ltd.
Their A-licence fleet was fully occupied and no longer able to keep up with the increasing work into and out of store. Therefore they wanted conditions of: "Goods intended for storage and the delivery of goods as instructed after storage, by licensees, as required."
The collections were mainly from Yorkshire, the Midlands, Merseyside and London, and deliveries were to roadside sites and power stations.
Objecting hauliers claimed that they were not asked to carry empty drums, because unless they also carried the full loads, charges were too high.
Mr. Lindsay said it appeared to be a question of rates. He did not quite understand the application, although for B2 storage work much of it seemed to be normal traffic.
Mr. J. Backhouse, for the company, submitted that the traffic had arisen only since storage began. There was .strong evidence of need; much of the work was to road sites where there were no unloading facilities and low-loaders were essential.
Granting the application, Mr. Lindsay said the word " intended " in the conditions was too vague. The conditions would be: "Goods to and from stores of Contractors (Transport), Ltd., for delivery in accordance with the instructions of customers."
"OLD TIMER" THOUGHT HE DID NOT NEED FIGURES
AHAULIER who appeared last week before the Yorkshire Deputy Licensing Authority, Mr. J. H. A. Randolph, said he had no figures to support the renewal of his A licence. As he was "an old timer" he thought they did not matter.
The haulier, Mr. J. Rhodes, Shannon Street, Leeds, pointed out that his business had been in existence for 80 years, and at one time 40 horses had been used. He wanted a normal user of "all goods, all districts" to carry anything anywhere.
Adjourning the case, Mr. Randolph suggested that Mr. Rhodes should seek legal advice, as licences were not automatically renewed in the Yorkshire Traffic Area.
Why don't you read the instructions sent to you?" he asked. "You cause more delays than the much-criticized Civil Service." .