"No Need to Punish Operators Who Are Ignorant of the Licensing Laws"
19th December 1958
Page 36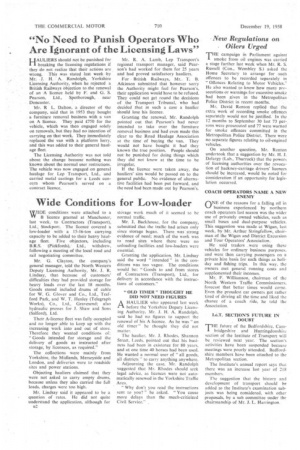 Page 36, 19th December 1958 —
"No Need to Punish Operators Who Are Ignorant of the Licensing Laws"
Close
HAULIERS should not be punished for breaking the licensing regOlations if they do not realize that their actions are wrong. This was stated last week by Mr. -J. H. A. Randolph, Yorkshire Licensing Authority, when he rejected a British Railways objection to the renewal of an A licence held by F. and G. S. Pearson, Ltd., Spotborough, near Doncaster.
Mr. R L. Dalton, a director of the company, said that in 1953 they bought a furniture removal business with a van on A licence. They paid £750 for the vehicle, which was then engaged solely on removals, but they had no intention of carrying on that work. They immediately replaced the van with a platform lorry, and this was added to their general haulage fleet.
The Licensing Authority was not told about the change because nothing was known about the normal user restrictions. The vehicle was now engaged on general haulage for Lep Transport, Ltd., and carried metal castings for a Leeds concern whom Pearson's served on a contract licence. Mr. R. A. Lamb, Lep Transport's regional transport manager, said Pearson's had worked for them for 25 years and had proved satisfactory hauliers.
For • British Railways, Mr. T. B. Atkinson submitted that however sorry the Authority might feel for Pearson's, their application would have to be refused. They could not get round the decisions of the Transport Tribunal, who had decided that in such a case a haulier should lose his licence.
Granting the renewal, Mr. Randolph pointed out that Pearson's had never intended to take over the furniture removal business and had even made this clear to the Road Haulage Association at the time of buying the van. They would not have bought it had they known the.true position. People should not be punished for doing things which they did not know at the time to be irregular.
If the licence were taken away, the hauliers' sins would be passed on to the general public. No evidence of alternative facilities had been put forward, and the need had been made out by Pearson's.