• OBITUARY..
19th December 1958
Page 34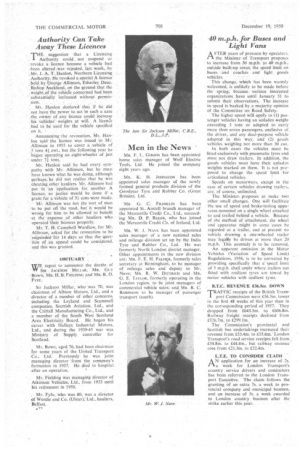 Page 34, 19th December 1958 —
• OBITUARY..
Close
xilE regret to announce the deaths of VT SIR JACKSON MILLAR,MR. GUY • Bowtsi, MR. H. B. FiELonsci and MR. R. D. FYFE.
Sir Jackson Millar, who was 70, was chairman of Albion Motors, Ltd., and a director of a number of other concerns. including the Leyland and Scammell companies, Scottish Aviation, Ltd., and the Crittall Manufacturing Co., Ltd., and a member. of the South West Scotland Area Electricity Board. He began his career with Halleys Industrial Motors, Ltd.; and during the 1939-45 war was Ministry of Supply controller for -Scotland.
Mr. Bokvn, aged 76, had been chairman or smite years of the United Transport Co., Ltd. Previously he was joint managing director from the company's formation in 1937. He died in hospital after an operation.
Mr. Fielding was managing director of Atkinson Vehicles, Ltd., from 1933 until his retirement in 1950.
_ Mr. Fyfe, -who was 80, was a director of Wordie and Co. (Ulster), Ltd., hauliers, Belfast.