40% Change in User Must be Justified
19th December 1958
Page 33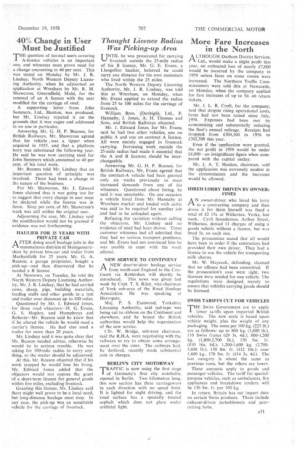 Page 33, 19th December 1958 —
40% Change in User Must be Justified
Close
THE question of normal users covering A-licence vehicles is an important one, and witnesses must prove need for • a change amounting to 40 per cent. This was stated on Monday by Mr. J. R. Lindsay, North Western Deputy Licensing Authority, when he adjourned an application at Wrexham by Mr. R. M. Shawcross, Gwernffield, Mold, for the renewal of an A licence with the user modified for the .carriage of steel.
A supporting letter, . 'from John Summers, Ltd., .Shotton, was produced, but Mr. Lindsay rejected it on the grounds that it was vague and addressed to no one in particular.
Answering Mr. G: H. P. Beames; for British Railways, Mr. Shawcross agreed that his vehicle "was a tipper when acquired in 1955, and that a platform lorry was substituted the following year. He said he was now carrying steel for John Summers which amounted to 40 per cent. of his total work.
Mr..Beames told Mr. Lindsay that an important question of • principle was -involved. There had been a change in the nature of the business.
For Mr. Shawcross, Mr. J. Edward Jones claimed that it was going too far to suggest that every change in user must . be declared while the licence was in force. Sixty per cent. of Mr. Shawcross's work was still within the original user. Adjourning the case, Mr. Lindsay said the modification would not be granted if evidence was not forthcoming, HAULIER FOR 25 YEARS WITH PRIVATE CAR
AFTER doing small haulage jobs in the mountainous districts of Montgomeryshire by private hire-car and trailer from Machynlleth for 25 years, Mr. G. A. Reason, a garage proprietor, bought a pick-up--and then discovered that he needed a B licence.
At Newtown, on Tuesday, he told the North Western Denuty Licensing Author. ity, Mr. J. R. Lindsay, that he had carried cows, sheep, pigs, building materials, feeding stuffs and other goods in a taxi and trailer over distances up to,100 miles.
Questioned by Mr. J. Edward -Jones, for three road objectors—H. G. Evans, G. S. Hughes, and Humphreys and Roberts—Mr. Reason said he knew that if he altered the vehicle he would need a carrier's licence. He had also used a trailer for more than 20 years.
Mr. Lindsay said it was quite clear that Mr. Reason 'neededadvice, otherwise he would be in serious trouble. He was asking for 100-mile radius to carry anything, so the matter should be adjourned.
At this, Mr. Reason objected that if his work stopped he would lose his living. Mr. Edward Jones added that the objectors would not oppose the grant of a short-term licence for general goods within five miles, excluding livestock.
Granting this licence, Mr. Lindsay said there might well prove to be a local need, but long-distance haulage must stop. In any case, the pick-up was an unsuitable vehicle for the carriage of livestock.