C Licences : Labour Will Not Define Their Policy
19th December 1958
Page 32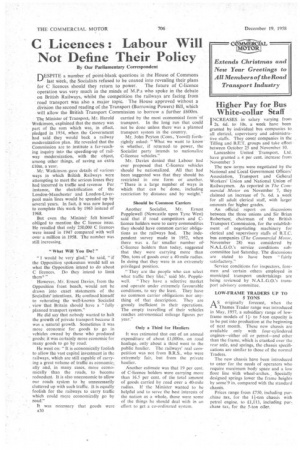 Page 32, 19th December 1958 —
C Licences : Labour Will Not Define Their Policy
Close
By Our Parliamentary Correspondent
DESPITE a number of point-blank questions in the House of Commons last week, the Socialists refused to be coaxed into revealing their plans for C licences should they return to power. The future of C-licence operation was very much in the minds of M.P.s who spoke in the debate on British Railways, whilst the competition the railways are facing from road transport was also a major topic. The House approved without a division the second reading of the Transport (Borrowing Powers) Bill, which will allow the British Transport Commission to borrow a further £600m.
The Minister of Transport, Mr. Harold Watkinson, explained that the money was part of the sum which was, in effect, pledged in. 1954, when. the Government had said they would back a railway modernization plan. He revealed that the Commission are to institute a far-reaching inquiry into the speeding-up of railway modernization, with the object, among other things, of saving an extra £10m.. a year.
Mr. Watkinson gave details of variousways in which British Railways were attempting to meet the serious tosses they had 'incurred in traffic and revenue For instance, the electrification of the London-Manchester and London-Liverpool main main lines would be speeded up by several years. In fact, it was now hoped to complete this work by 1963 instead of 1968.
But even the Ministei felt himself obliged to mention the C licence issue. He recalled that only 250,000 C licences were issued in 1947 compared' with well over a million in 1958. The number was still increasing, "What Will You Do?"
"I would be very glad," he said, "if the Opposition spokesman would tell us what the Opposition intend to do about C licences. Do they intend to limit them 9" However, Mr. Ernest Davies, from the Opposition front bench, -would not be drawn into exact statements of the Socialists' intentions. He confined himself to reiterating the well-known Socialist view that Britain should have a "fully planned transport system."
He did say that nobody wanted to halt the growth of private transport because it wa§ a natural growth. Sometimes it was more economic for goods to go in vehicles owned by those who produced goods; it was certainly more economic for many goods to go by road.
He went on: "It is economically foolish to allow the vast capital investment in the railways, which are still capable of carrying a great volume of traffic as economic.: ally and, in many cases, more economically than the roads, to become redundant. It is also uneconomic to allow our roads system to he unnecessarily cluttered up with such traffic. It is equally foolish for the railways to carry traffic which could rinzre economically go by road."
It was necessary that goods were A30
carried by the most economical form 'of transport. In the long run that could not be done unless there was a planned transport system in the country.
Mr. John Peyton (Cons., Yeovil) forthrightly asked: "What we want to know -is whether, if returnedto power, the Socialist party intends to nationalize C-licence vehicles."
Mr. Davies denied that Labour had ever proposed that C-licence vehicles should be nationalized. All that had been suggested was that they should be. restricted in one form or another. "There is a large number of ways in which that can be done, including restriction by distance and by weight."
Should be Common Carriers Another Socialist, Mr. Ernest Popplewell (Newcastle upon Tyne West) said that if road competitors and Clicence holders were to carry commodities they should have common carrier obligations as the railways had. The independent survey made in 1952, when there was a far smaller number ofC-licence holders than today, suggested that they were carrying more than 50m. tons of goods over a 40-mile radius. In doing that they were in an extremely privileged position.
"They are the people who can select what traffic they like," said Mr. Popplewell. "They have a selective market and operate under extremely favourable conditions, to say the least. They have no common carrier obligations nor anything of that description. They are grossly inefficient in their operations. The empty travelling of their vehicles reaches astronomical mileage figures per year."
Only a Third for Hauliers
It was estimated that out of an annual expenditure of about £1,000m. on road haulage, only about a third went to the public haulier. The railways' real competition was not from B.R.S.. who were extremely fair, but from the private haulier.
Another estimate was that 19 per cent. of C-licence holders were carrying more than 16.5 per cent, of the total amount of goods carried by road over a 40-mile radius. If the Minister wanted to be helpful and to serve the best interests of the nation as a whole, those were some of the things he should deal with in an effort to get a co-ordinated system.