Fiat Post-war
19th December 1947
Page 35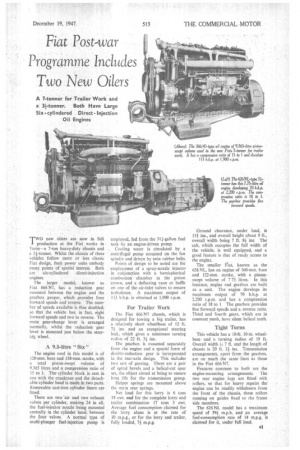 Page 35, 19th December 1947 —
Fiat Post-war
Close
• Programme Includes
Two New Oilers
A 7-tonner for Trailer Work and a 3i-tonner. Both Have Large Six cylindered DirectInjection Oil Engines TWO new oilers are now in full production at the Fiat works in Turin---a 7-ton heavy-duty chassis and a /Portlier. Whilst the chassis of these vehicles follow more or less classic Fiat design, their power units embody many points of special interest. Both
are six-cylindered direct-injection engines.
The larger model, known as Fiat 666 N7, has a reduction gear mounted between the engine and the gearbox proper, which provides four forward speeds and reverse. The number of speeds available is thus doubled, so that the vehicle has, in fact, eight forward speeds and two in reverse. The main gear-change lever is arranged normally, whilst the reduction gear lever is mounted just below the steeriitvg wheel.
A 9.3-litre "Six" ,
The engine used in this model is of 170-mm, bore and 138-mm. stroke, with a total piston-swept volume of 9.365 litres and a compression ratio of 15 to I. The cylinder block is east in one with the crankcase and the detachable cylinder head is made in two parts. Removable cast-iron cylinder liners are fitted.
There are two 'air and two exhaust valves per cylinder, making 24 in all, the fuel-injector nozzle being mounted centrally in the cylinder head, between the four valves. A normal type of multi-plunger fuel-injection pump is employed, fed from the /11-gallon fuel tank by an •engine-driven pump.
_ Cooling water is circulated by a centrifugal pump mounted on the fan spindle and driven by twin rubber belts. Points of design to be noted are the employment of a spray-nozzle injector in conjunction with a hemispherical combustion chamber in the piston crown, and a deflecting vane or baffle on one of the air-inlet valves to ensure turbulence_ A maximum output of 113 b.h.p. is obtained at 1,900 r.p.m.
For Trailer. Work The Fiat 666 N7 chassis, which is designed for towing a big trailer, has a relatively short wheelbase of 17 ft 71 ins. and an exceptional steering lock, which gives a minimum turning radius of 22 ft, 3i• ins.
The gearbox Is mounted separately from the engine and a special form of double-reduction gear is incorporated in the rear-axle design. This inch,des two sets of gearing. There are a pair of spiral bevels and a helical-cut spur Set, the object aimed at being to ensure long life for the transmission group.
Helper springs are mounted above the main rear springs.
Net load for this lorry is 6 tons 18 cwt. and for the complete lorry and trailer combination 17 tons 5 cwt. Average fuel consumption claimed for the lorry alone is at the rate of 10 m.p.g., or for the lorry and trailer, fully loaded, 7-i m.p.
Ground clearance, under load, is 111 ins., and overall height about 9 ft., overall width being 7 ft. 13.i ins: The. cab, which occupies the full width of the vehicle, is well equipped, and a good feature is that of ready access to the engine.
The smaller Fiat, known as the 626 NL, has an engine of 100-mm. bore and 122-mm. stroke, with a pistonswept volume of 7 75 litres. In this instance, engine and gearbox are built as a. unit. The engine develops its maximum output of 70 b.h.p. at 2,200 r.p.m. and has a compression ratio of 18 to 1 The gearbox provides five forward speeds and a reverse ratio. Third and fourth gears, which are in constant mesh, have silent helical teeth.
Tight Turns
This vehicle has. a 10-ft. 10-in, wheelbase and a turning radius of 19 ft. Overall width is 7 ft. and the length of chassis is 20 ft. 3i ins. Transmission arrangements, apart from the gearbox, are on much the same lines as those in the Fiat 666 NT.
Features common to both are the engine-mounting arrangements. The two rear engine lugs are fitted with rollers, so that for heavy repairs the engine can be readily withdrawn from the front of the chassis, these rollers running on guides fixed to the frame "side members.
The 626NL model has a maximum speed of 39-i m.p.h. and an average fuel-consumption rate of 14 m.p.g. is claimed for it, under full load.