Passenger Transport News
19th December 1947
Page 29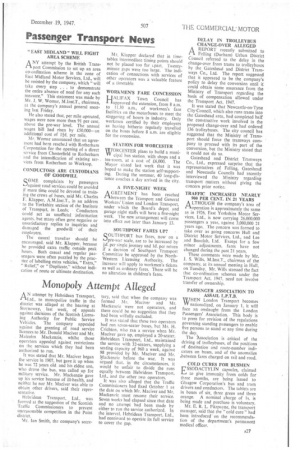 Page 29, 19th December 1947 —
Passenger Transport News
Close
Keywords :
"EAST MIDLAND" WILL FIGHT AREA SCHEME A NY attempt by the British Trans
port Commission to set up an area co-ordination scheme in the zone of East Midland Motor Services, Ltd., will be resisted by the company, which "will take every step . , . to demonstrate the entire absence of need for any such measure." This statement was made by Mr. J. W. Womar, Minst.T., chairman, at the company's annual general meeting last Friday.
He also stated that, per mile operated, wages were now more than 91 per cent. above the pre-war level. The annual wages bill had risen by £50,000—an additional cost of lid. per mile.
Mr. Womar announced that an agreement had been reachei with Rotherham Corporation for the opening of a direct service from Chesterfield to Rotherham and the intensification of existing services from Rotherham to Worksop.
CONDUCTORS ARE CUSTODIANS OF GOODWILL QOME complaints by passengers Oagainst road services could be avoided if more time could be devoted to training the crews of buses, said Mr. Charles F. Klapper, A.M.Inst.T., in an address to the Yorkshire section of. the Institute of Transpqit, in Leeds: Conductors could act as unofficial information agents, but many often gave negative or unsatisfactory replies to inquiries and damaged the goodwill of their employers.
The casual traveller should be encouraged, said Mr. Klapper. because he provided extra traffic outside peak hours. Both casual and regular passengers were often puzzled by the practice of labelling extra vehicles, "Extra," " Relief," or " Duplicate," without indication of route or ultimate destination. Mr. Klepper declared that in timetables intermediate timing points should not be placed 'too far i.part. Twentyminute gaps were too large. The indication of connections with services of other operators was a valuable feature of a timetable WORKMEN'S FARE CONCESSION
HAL1FAX Town Council has 'approved the extension, from 8 a.m. to 11.30 a.m., of workmen's fare facilities on the motorbuses to meet the staggering of hours in industry. Only workmen. certified by their employers as having hitherto regularly travelled on the buses before 8 a.m. are eligible for the concession.
STATION FOR WORCESTER WJORCESTER plans to build a muniVV cipal bus station, with shops and a tea-room, at a cost of £6,000. The Mayor stated last week that it was hoped to make the station self-supporting. During the summer, 40 long-distance coaches a day arrived in the city.
A FIVE-NIGHT WEEK
AGREFMENT has been reached
between the has and General Workers' Union and London Transport, under which the Board's depot and garage night staffs will have a five-night week. The new arrangement will come into effect not later than January 13.
SOUTHPORT FARES UP? •
SOUTI-IPORT bus fares, now' on a pre-war scale, are to be increased by id. per single journey and Id. per return if a decision of Southport Transport Committee be approved by the NorthWestern Licensing Authority. The increase will apply to workmen's tickets as well as ordinary fares. There will be no alteration in children's fares.