Monopoly Attempt Alleged A N attempt by Hebridean Transport, Ltd., to
19th December 1947
Page 29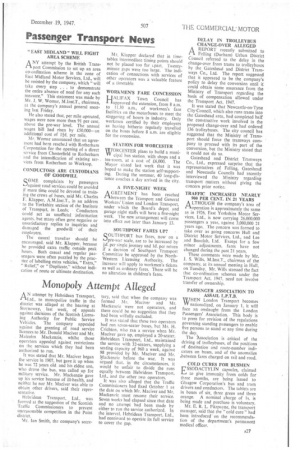 Page 29, 19th December 1947 —
Monopoly Attempt Alleged A N attempt by Hebridean Transport, Ltd., to
Close
monopolize traffic in the district was alleged at the hearing at Stornoway, last week, of appeals against decisions of the Scottish Licensing Authority for Public Service Vehicles. The company appealed against the granting of road service licences to Mr. Donald Maciver and Mr. Malcolm Mackenzie, whilst those operators appealed against restrictions on the services which they had been authorized to run.
It was stated that Mr. Maciver began the service in 1907, but gave it up when he was 72 years old, and his eldest son, who drove the bus, was called up for military service. Mr. Mackenzie gave up his service because of ill-health, and neither he nor Mr. Maciver was able to obtain other drivers, said their representative.
Hebridean Transport, Ltd., was formed at the suggestion of the Scottish Traffic Commissioners to prevent unreasonable competition in the Point district.
Mr. Ian Smith, the company's secre tary, said that when the company was formed Mr. Maciver and Mr. Mackenzie were not operators, and there could be no suggestion that they had been wilfully excluded.
It was stated that these two operators had run seven-seater buses, but Mr. H. Crichton, who ran a service when Mr. Maciver gave up, employed a 20-seater. Hebridean Transport, Ltd., maintained the service with 32-seaters, supplying a seating capacity of 960 a week, against 98 provided by Mr. Maciver and Mr. Mackenzie before the war. It was argued that, in the circumstances, it would be unfair to divide the runs equally between Hebridean Transport, Ltd., and the other two operators.
It was also alleged that the Traffic Commissioners had fixed October 1 as the date on which Mr. Maciver and Mr. Mackenzie must resume their service. Seven weeks had elapsed since that date and no attempt had been made by either to run the service authorized. In the interval, I-Tebridean Transport, Ltd., had continued to operate its full service to cover the gap.