DELAY IN TROLLEYBUS CHANGE-OVER ALLEGED
19th December 1947
Page 29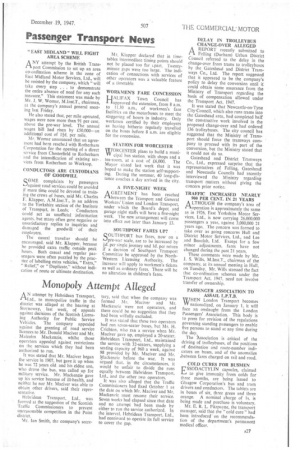 Page 29, 19th December 1947 —
DELAY IN TROLLEYBUS CHANGE-OVER ALLEGED
Close
AREPORT recently submitted to . Felling (Durham) Urban District Council referred to the delay in the change-over from trams to trolleybuses by the Gateshead and District Tramways Co., Ltd. The report suggested that it appeared to be the company's policy to delay the conversion until it could obtain some assurance from the Ministry of Transport regarding the basis of compensation allowed under the Transport Act, 1947.
It was stated that Newcastle-on-Tyne City-Council, which also runs trams into the Gateshead area, had completed half the constructive work involved in the proposed change-over and had ordered 136 trolleybuses. The city council has suggested that the Ministry of Transport should force the tramways company to proceed with its part of the conversion, but the Ministry stated that it could not do so.
Gateshead and District Tramways Co,, Ltd., expressed surprise that the representatives of Felling, Gateshead and Newcastle Councils had recently interviewed the Ministry regarding transport matters without giving the concern prior notice.
TRAFFIC INCREASED NEARLY 900 PER CENT. 1N.21 YEARS A LTHOUGH the company's area of t71.operation is approximately the same as in 1926, East Yorkshire Motor Services, Ltd., is now carrying 26,000,000 passengers a year, against 3,000,000 21 years ago. The concern was formed to take over as going concerns Hull and District Motor Setvices, Ltd., and Lee and Beaulah, Ltd. Except for a few minor adjustments, fares have not Changed during the past 21 years. These comments were made by Mr. J. S. Wills, M.Inst.T., chairman of the company, at its annual meeting in Hull, on Tuesday. Mr. Wills stressed the fact that co-ordination schemes under the Transport Act. 1947. need not involve transfer of ownership.
PASSENGER ASSOCIATION TO ' ASSAIL L.P.T.B.
/HEN London Transport becomes YV nationalized, on January 1, it will face an onslaught from the London Passengers' Association. This body is to press for revision of the regulations governing standing passengers to enable five persons to stand at any time during the day.
The 'Association is critical of the driving of trolleybuses, of the positions of destination and route-number indicators on buses, and of the anomalies .between fares charged on rail and road.
COLD CURES FOR BUSMEN L''SSODACTYLIN capsules, claimed to give immunity from colds for three months, are being issued to Glasgow Corporation's bus and tram drivers and conductors. The tablets are in boxes of six, three green and three orange. A nominal charge of Is. is being made and purchase is voluntary. Mr. E. R. L. Fitzpayne, the transport manager, said that the "cold cure" had been introduced on the recommendation of the department's permanent medical officer.