ROAD-RAIL PROBLEM MUST BE SOLVED SOON
19th December 1947
Page 28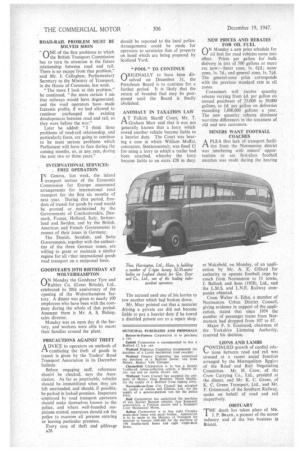 Page 28, 19th December 1947 —
ROAD-RAIL PROBLEM MUST BE SOLVED SOON
Close
Keywords :
" ONE of the first problems to which the British Transport Commission has to turn its attention is the future relationship between road and rail. There is no escape from that problem," said Mr. J. Callaghan, Parliamentary Secretary to the Ministry of Transport, in the House of Commons, last week.
"The more I look at this problem," he continued, "the more certain I am that railways would have degenerated, and the road operators have made fantastic profits, if we had allowed to continue unchanged the existing developmeLts between road and rail, as they were before the war."
Later he added: "I think these problems of road-rail relationship, and particularly fares, are going to continue to be most serious problems which Parliament will have to face during the coming months, or, at any rate, during the next two or three years."
INTERNATIONAL SERVICES: , FREE OPERATION
IN Geneva, last week, the inland transport section of the Economic Commission for Europe announced arrangements for international road transport for the first six months of next year. During that period, freedom of transit for goods by road would be granted or maintained by the Governments of Czechoslovakia, Denmark, France, Holland, Italy, Switzerland and Sweden, and by the British, American and French Governments in respect of their zones in Germany.
The Danish, Swedish, and Swiss Governments, together with the authorities of the three German zones, are wilting to grant or maintain a similar regime for all ether international goods road transport on a reciprocal basis.
GOODYEAR'S 20TH BIRTHDAY AT WOLVERHAMPTON
nN Monday the Goodyear Tyre and '-/Rubber Co. (Great Britain), Ltd., celebrated its 20th anniversary of the opening of the Wolverhampton factory. A dinner was given to nearly 100 employees who have been with the company during the whole of that period. Amongst them is Mr. A. S. Bishop, sales director.
Monday was an open day it the factory, and workers were able to escort their families around the plant.
PRECAUTIONS AGAINST THEFT
ADvicE to operators on methods of combating the theft of goods in transit is given by the Traders' Road Transport Association in its December bulletin
Before engaging staff, references should be checked, says the Association. As far as practicable, vehicles should be immobilized when they are left unattended, and should, if possible, be parked in locked premises. Inspectors employed by road transport operators should make themselves known to the police, and where well-founded suspicions existed, operators should ask the police to examine all persons entering or leaving particular premises.
Every case of theft and pilferage A26
should be reported to the local police. Arrangements could be made for operators to scrutinize lists of property on hand which are being prepared by Scotland Yard.
"POOL" TO CONTINUE
OR1G1NALLY to have been dissolved on December 31, the Petroleum Board is to continue for a further period. It is likely that the return of branded fuel may be postponed until the Board is finally abolished.
ANOMALY IN TAXATION LAW
AT Falkirk Sheriff Court, Mr. T. Graham Marr said that it was not generally known that a lorry which towed another vehicle became liable to a heavier duty. The Court was hearing a case in which William Moffat, contractor, Stennousemuir, was fined £1 for using a lorry to which a trailer had been attached, whereby the lorry became liable to an extra £20 in duty.
The accused used one of his lorries to tow another which had broken down.
Mr. Marr pointed out that a motorist driving a private car did not become liable to pay a heavier duty if he towed a disabled private car to a repair shop NEW PRICES AND REBATES FOR OIL FUEL
ON Monday a new price schedule for oil fuel for road vehicles came into effect. Prices per gallon for bulk delivery in lots of 500 gallons or more are now:—Inner zone, is. Md.; outer zone, Is. 7d.; and general zone, Is. 7+d. The general-zone price corresponds with the previous standard rate in all zones.
Consumeis will receive quantity rebates varying from id. per gallon on annual purchases of 25,000 to 50,000 gallons, to id. per gallon on deliveries exceeding 1,000,000 gallons a year. The new quantity rebates eliminate war-time differences in the treatment of old and new customers.
MINERS WANT FOOTBALL COACHES
APLEA that lack of transport facilities from the Norrnanton district was interfering with miners' opportunities to see first-class football matches was made during the hearing
at Wakefield, on Monday, of an application by Mr. A. E. Gillard for authority to operate football trips by coach from Normanton to 11 towns.
J. Bullock and Sons (1928), Ltd., and the L.M.S. and L.N.E. Railway companies objected.
Colin. Walter A. Edan, a member of Normanton Urban District Council, giving evidence in support of the application, stated that since 1939 the number of passenger trains from Normanton had dropped from 107 to 67.
Major F. S. Eastwood, chairman of the Yorkshire Licensing Authority, reserved his decision.
LIONS AND LAMBS
CONT1NUED growth of cordial relations between road and rail was stressed at a recent social function arranged by the Metropolitan Rsgioa of the Road and Rail Negotiating Committee. Mr. H. Crow, of the Crow Carrying Co., Ltd., presided at the dinner, and Mr. K. C. Green, of
K. C. Green Transport, Ltd., and Mr. F. Grimwood, of the Southern Railway, spoke on behalf of road and rail respectively.
OBITUARY
THE death has taken place of MR. I.P. BRAZIL, a pioneer of the motor industry and of the bus business in Bristol.
Tags
Organisations
:
Normanton Urban District Council
,
Rail Negotiating Committee
,
Traders' Road Transport Association
,
Scotland Yard
,
British Transport Commission
,
Petroleum Board
,
Economic Commission for Europe
,
Yorkshire Licensing Authority
,
House of Commons
,
Falkirk Sheriff Court
,
Ministry of Transport
,
Road Transport Association
People
:
Court
,
F. Grimwood
,
T. Graham Marr
,
A. E. Gillard
,
F. S. Eastwood
,
J. Callaghan
,
Walter A. Edan
,
Stennousemuir
,
K. C. Green
,
William Moffat
,
A. S. Bishop