Pledge to Support B.T.C.
19th December 1947
Page 27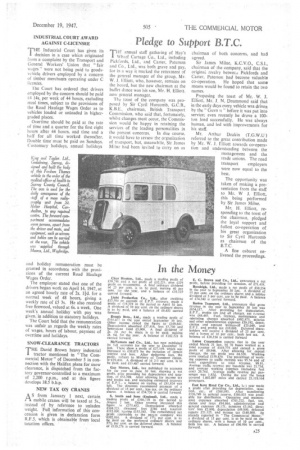 Page 27, 19th December 1947 —
Pledge to Support B.T.C.
Close
THE annual staff gathering of Hay's Wharf Cartage Co., Ltd., including Pickfords, Ltd., and Carter. Paterson and Co., Ltd., was both grave and gay, for in a way it marked the retirement of the general manager of the group, Mr. W. J. Elliott, who, however, remains on the board, but the new chairman at the buffet dance was his son, Mr. H, Elliott. now general manager.
The toast of the company was proposed by Sir Cyril Hurcomb, G.C.13" K.13.E,, chairman, British Transport Commission, who said that, fortunately, whilst changes must occur, the Commission would be happy in retaining the services of the leading personalities in
the present concerns. In due course, it would have to review the organization of transport, but, meanwhile, Sir James Milne had been invited to carry on as chairman of both concerns, and had agreed.
Sir James Milne, K.C.V.O., C.S.I" chairman of the company, said that the original rivalry betweca Pickfords and Carter, Paterson had become valuable co-operation. He hoped that some means would he found to retain the two names.
Proposing the toast of Mr— W. J. Elliott, Mr. J. N. Drummond said that in the early days every vehicle was driven by the " Guvn " before it was put into service; even recently he drove a 100ton load successfully. He was always human, and led with improvements for his staff.
Mr. Arthur Deakin (T.G.W.0 ) referred to the great contribution made by Mr. W. J. Elliott towards co-operation and understanding between the management andthe trade unions. The road transport employers were now equal to the best.
The opportunity was taken of making a presentation from the staff to Mr. W J. Elliott, this being performed by Sir James Milne.
Mr. H. Elliott, responding to the toast of the chairman, pledged the loyal support and fullest co-operation of his great organization to Sir Cyril Hurcomb as chairman of the B.T.C.
A fine cabaret enlivened the proceedings.