INDUSTRIAL COURT AWARD AGAINST C-LICENSEE THE Industrial Court has given
19th December 1947
Page 27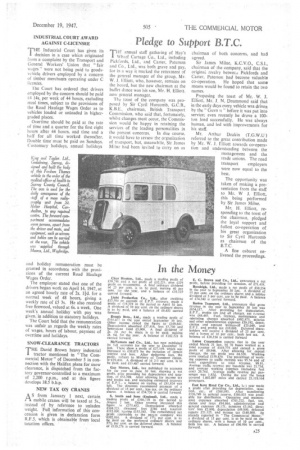 Page 27, 19th December 1947 —
INDUSTRIAL COURT AWARD AGAINST C-LICENSEE THE Industrial Court has given
Close
its 1 decision in a case whicn originated from a complaint by the Transport and General Workers' Union that "fair wages" were not being paid to goodsvehicle drivers employed by a concern of timber merchants operating under C licences.
The Court has ordered that drivers employed by the concern should be paid t4 14s. per week of 44 hours, excluding meal times, subject to the provisions of the Road Haulage Wages Order as to vehicles loaded or unloaded in highergraded places.
Overtime should be paid at the rate of time and a quarter for the first eight hours after 44 hours, and time and a half for all time worked thereafter. Double time must be paid on Sundays. Customary holidays, annual holidays and holiday remuneration must be granted in accordance with the provisions of the current Road Haulage Wages Order.
The employer stated that one of the drivers began work on April 14, 1947, at an agreed hourly rate of 2s. lid. for a normal week of 48 hours, giving a weekly rate of £5 3s. He also received free firewood, valued at 6s. a week. One week's annual holiday with pay was given; in addition to statutory holidays.
The Court held that the remuneration was unfair as regards the weekly rates of wages, hours of labour, payment of overtime and holidays.
SNOW-CLEARANCE TRACTORS
THE David Brown heavy industrial tractor mentioned in "The Commercial Motor" of December 5 in connection with the Halifax plans for snow clearance, is dispatched from the factory governor-controlled to a maximum of 2,200 r.p.m., and at this figure develops 38.5 b.h.p.
NEW TAX ON CRANES
AS from January 1 next, certain mobile cranes will be taxed at 5s., instead of by reference to unladen weight. Full information of this concession is given in declaration form R.F.5, which is obtainable from local taxation offices.