500 A Lice
19th December 1947
Page 24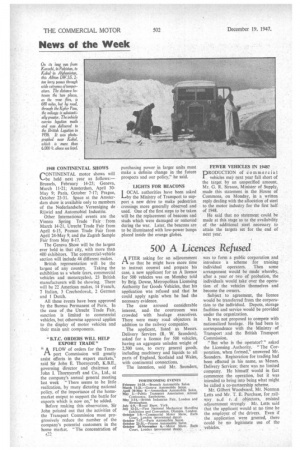 Page 24, 19th December 1947 —
500 A Lice
Close
nces Refused
AFTER asking for an adjournment so that he might have more time to instruct counsel and prepare his case, a new applicant for an A licence for 500 vehicles was on Monday told by Brig. Dowse, Metropolitan Licensing Authority for Goods Vehicles, that his application was refused and that he could apply again when he had the necessary evidence.
The case aroused considerable interest, and. the courtroom was crowded with haulage executives. There were many road objectors in addition to the railway companies.
The applicant, listed as Messrs. Delivery Services (R. W. Saunders), asked for a licence for 500 vehicles, having an aggregate unladen weight of 2,500 tons, to carry general goods, including machinery and liquids to all parts of England, Scotland and Wales, with continental connections.
The intention, said Mr. Saunders, was to form a public corporation and introduce a scheme for training individual operators, Then some arrangement would be made whereby, after a year or two of probation, the individuals would take over the operation of the vehicles themselves and become the owners.
Subject to agreement, the licence would be transferred from the corporaticin to the individual. Depots, storage facilities and service would be provided under the organization.
It was not proposed to compete with nationalized haulage. He had been in correspondence with the Ministry of Transport and the British Transport Commission.
"But who is the operator? " asked the Licensing -.Authority. "The Corporation, when formed," answered Mr. Saunders. Registration for trading had been effected in his name, as Messrs. Delivery Services; there was no limited company. He himself would in fact commence the operation, but it was intended to bring into being what might be called a co-partnership scheme.
Mr. Gilbert Woodward, Mr. Norman Letts and Mr. T. E. Purchase, for railway ad rc .d objectors, resisted adjournment strongly Mr. Letts said that the applicant would at no time be the employer of the drivers. Even if the application were granted, there could be no legitimate use of the vehicles.