1948 CONTINENTAL SHOWS
19th December 1947
Page 24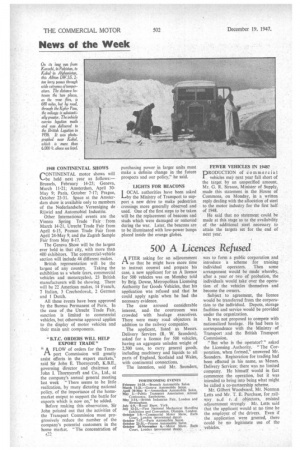 Page 24, 19th December 1947 —
1948 CONTINENTAL SHOWS
Close
CONTINENTAL motor shows will be held next year as follows:— Brussels, February 14-25; Geneva, March 11-21; Amsterdam, April 30May 9; Paris, October 7-17; Prague, October 23-31. Space at the Amsterdam show is available only to members of the Nederlandsche Vereeniging de Rijwiel and Automobiel Industrie.
Other International events are the Vienna Spring Trade Fair from March 14-21, Utrecht Trade Fair from April 6-15, Poznan Trade Fair from April 24-May 9, and the Zagreb Sample Fair from May 8-17.
The Geneva Show will be the largest ever held in that city, with more than 400 exhibitors. The commercial-vehicle section will include 44 different Makes.
British representation will be the
largest of any country. Taking the exhibition as a whole (cars, commercial vehicles and motorcycles), 23 British manufacturers will be showing. There will be 22 American makes, 14 French, 7 Italian, 3 Czechoslovak, 2 German and I Dutch.
All these events have been approved by the Bureau Permanent of Paris. In the case of the Utrecht Trade Fair, sanction is limited to commercial vehicles, but otherwise approval applies to the display of motor vehicles and their main unit components.
"B.T.C. ORDERS WILL HELP EXPORT TRADE"
"A FLOW of orders for the Trans ti port Commission will greatly assist efforts in the export markets," said Sir John E. Thornycroft, K.B.E., governing director and chairman of John I. Thornycroft and Co., Ltd., at the company's annual general meeting last week "There seems to be little realization, by many dictating national policy, of the importance of the homemarket output to support the battle for exports which is now on," he added.
Before making this observation, Sir John pointed out that the activities of the Transport Commission must progressively reduce the number of the company's potential customers in the home market. "The concentration of 422 purchasing power in larger units must make a definite change in the future prospects and our policy," he said.
LIGHTS FOR BEACONS
LOCAL authorities have been asked by the Ministry of Transport to support a new drive to make pedestrian crossings more generally observed and used. One of the first steps to be taken will be the replacement of beacons and studs which were damaged or removed during the war. Later, the beacons are to be illuminated with low-power lamps placed inside the orange globes. FEWER VEHICLES IN 1948?
PRODUCTION of commercial vehicles may next year fall short of the target by an unspecified amount. Mr. G. R. Strauss, Minister of Supply, made this statement in the House of Commons, on Monday, in a written reply dealing with the allocation of steel to the motor industry for the first half of 1948.
He said that no statement could be made at this stage as to the availability of the additional steel necessary, to attain the targets set for the end of next year.