One Hears—
19th December 1947
Page 23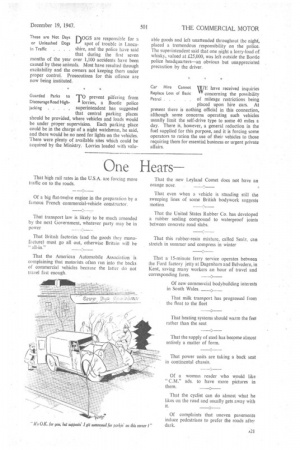 Page 23, 19th December 1947 —
One Hears—
Close
That high rail rates in the U.S.A. are forcing more traffic on to the roads.
Of a big flat-twelve engine in the preparation by a famous French commercial-vehicle constructor.
That transport law is likely to be much amended by the next Government, whatever party may be in power That British factories (and the goods they manufacture) must go all out, otherwise Britain will he "all-in."
That the American Automobile Association is complaining that motorists often run into the backs of commercial vehicles because the latter do not travel fast enough. That the new Leyland Comet does not have an orange nose. .
That even when a vehicle is standing still the sweeping lines of some British bodywork suggests motion That the United States Rubber Co. has developed a rubber sealing compound to waterproof joints between concrete road slabs.
That this rubber-resin mixture, called Sealz, can stretch in summer and compress in winter That a 15-minute ferry service operates between the Ford factory jetty at Dagenham and Belvedere, in Kent, saving many workers an hour of travel and corresponding fares. 0 Of new 'commercial body building interests in South Wales.
That milk transport has progressed from the float to the fleet That heating systems should warm the feet rather than the seat That the supply of steel has become almost entirely a matter of form.
That power units are taking a back seat in continental chassis.
Of a woman reader who would like " C.M." ads. to have more pictures in them.
That the cyclist can do almost what he likes on the road and usually gets away with it. 0 Of complaints that uneven pavements induce pedestrians to prefer the roads after dark.