P assing Comments Corrugated Rubber A FEW weeks ago we sugTracks
19th December 1947
Page 22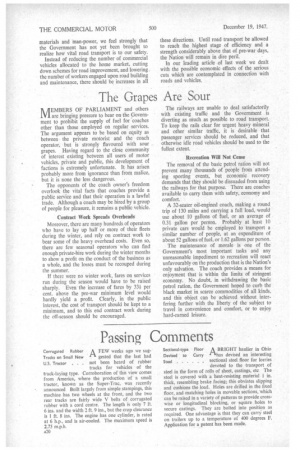 Page 23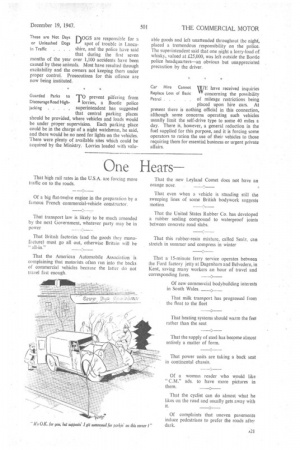 Page 22, 19th December 1947 —
P assing Comments Corrugated Rubber A FEW weeks ago we sugTracks
Close
on Small New 1—k gested that the last had U.S. Tractor . . . not been heard of rubber
tracks for vehicles of the track-laying type. Corroboration of this view comes from America, where the production of a small tractor, known as the Super-Trac, was recently announced Built largely from simple stampings, this machine has two wheels at the front, and the two rear tracks are fairly wide V belts of corrugated rubber with a cord centre. The length is only 7 ft. 6 ins, and the width 2 ft. 9 ins., but the crop clearance is 1 ft. 8 ins. The engine has one cylinder, is rated at 6 h.p., and is air-cooled. The maximum speed is 2.75 m.p.h.
A20
Sectional-type Floor A BRIGHT haulier in Ohio Devised to Carry IThhas devised an interesting
Steel sectional steel floor for lorries devoted to the transport of steel in the form of rolls of sheet, castings, etc The steel is covered with a heat-resisting material 1 in. thick, resembling brake facing; this obviates slipping and cushions the load. Holes are drilled in the fixed floor, and matching holes in movable sections, which can be raised in a variety of patterns to provide crosswise or longitudinal blocking, or square holes to secure castings. They are bolted into position as required. One advantage is that they can carry steel on trailers up to a temperature of 400 degrees F. Application for a patent has been made. These are Not Days or Unleashed Dogs In Traffic . . .
JOGS are responsible for a --." spot of trouble in Lancashire, and the police have said
that during the first seven months of the year over 1,100 accidents have been caused by these animals. Most have resulted through excitability and the owners not keeping them under proper control. Prosecutions for this offence are now being instituted.
Guarded Parks to T° prevent pilfering from
Discourage Road Highlorries, a Bootle police
jacking . " superintendent has suggested
that central parking places should be provided, where vehicles and loads would be under proper supervision. Each parking place could be in the charge of a night watchman, he said, and there would be no need for lights on the vehicles. There were plenty of available sites which could be acquired by the Ministry. Lorries loaded with valu
able goods and left unattended throughout the night, placed a tremendous responsibility on the police. The superintendent said that one night a lorry-load of whisky, valued at £25,000, was left outside the Bootle police headquarters—an obvious but unappreciated precaution by the driver.
Car Hire Cannot WE have received inquiries Replace Loss of Basic " concerning the possibility Petrol . of mileage restrictions being
placed upon hire cars. At present there is nothing official in this connection, although some concerns operating such vehicles usually limit the self-drive type to some 40 miles a day. There is, however, a general reduction in the fuel supplied for this purpose, and it is forcing some operators to ration the use of their vehicles to those requiring them for essential business or urgent private affairs.