Leicester Operators Pledge Support
19th December 1941
Page 31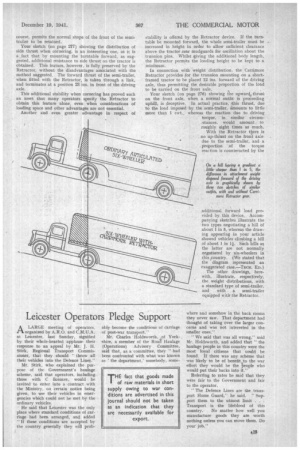 Page 31, 19th December 1941 —
Leicester Operators Pledge Support
Close
Keywords :
ALARGE meeting of operators, organized by A.R.O. and C.M.U.A. at Leicester, last Sunday, signified by their whole-hearted applause their response to an appeal by Mr. J. H. Stirk, Regional Transport Commissioner, that they should " throw all their vehicles into the Defence Lines."
Mr. Stirk, who explained the purpose of the Government's haulage scheme, said that operators, including those with C licences, would be invited to enter into a contract with the Ministry, on certain notice being given, to use their vehicles in emergencies which could not be met by the ordinary vehicles.
He said that Leicester was the only place where standard conditions of carriage had been arranged, and added "If these conditions are accepted by the country generally they will prob
ably become the conditions of carriage of post-war transport."
Mr. Charles Hoidsworth, of Yorkshire, a member of the Roan Haulage (Operations) Advisory Committee, said that, as a committee, they "had been confronted with what was known as the department,' somebody, somc where and somehow in the back rooms they never saw. That department had thought of taking over the larger concerns and was not interested in the smaller ones."
" We said that was all wrong," said Mr. Holdsworth, and added that "the haulage people in this country were the most loyal citizens that could be found. If there was any scheme that was likely to be of benefit to the war effort they would be the people who would put their backs into it."
Referring to rates he said that they were fair to the Government and fair to the operator.
" The Defence Lines are the transport Home Guard," he said. "Sup.. port them to the utmost limit Transport is the lifeblood of this
country. No matter how well you manufacture goods they are worth nothing unless you can move them. Do your job."