Representation and Licensing Problems
19th December 1941
Page 27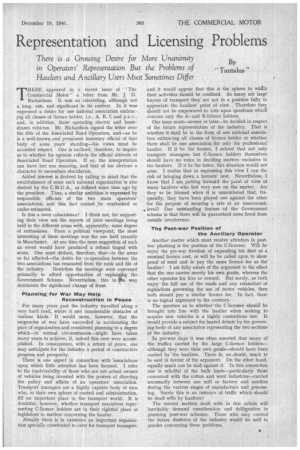 Page 27, 19th December 1941 —
Representation and Licensing Problems
Close
Keywords :
There is a Growing Desire for More Unanimity in' Operators' Representation But the Problems of Hauliers and. Ancillary Users Must 'Sometimes Differ THERE appeared in a recent issue of 'The Commercial Motor" a letter from Mr. J. D. 'Richardson. It was an interesting, although not a long, one, and significant in its content. In it was expressed a desire for one national association embracing all classes of licence holder, i.e., A, B, C and p.s.v., and, in addition, those operating electric and horsedrawn. vehicles. Mr. Richardson signed the letter over the title of the Associated Road Operators, and—as he is a well-known, and prominent honorary official of that body of some years' standing—his views must be accorded respect. One is inclined; therefore, to inquire as to whether his opinion reflects the official attitude of Associated Road Operators. If so, the interpretation can have but one meaning, and that of too obvious a character to necessitate elucidation.
Added interest is derived by calling to mind that the establishment of some such national organization is also desired by the C.M.T.J.A., as defined some time ago by the president. Thus, a similar ambition is expressed by responsible officials of the two . main operators' associations; and this fact cannot he overlooked or under-estimated.
Is this a mere coincidence? I think not, for supporting their view are the reports of joint meetings being held in the different areas with, apparently, some degree of enthusiasm. From a political viewpoint, the most interesting of these meetings was the one held recently in Manchester. At one time the mere suggestion of such an event would have produced a refusal tinged with scorn. One must deduce, therefore, that—in the areas so far affected—the desire for co-operation between the two associations has emanated from the rank and file of the industry. Doubtless the -meetings were convened primarily to afford opportunities of expla' ' g the -Government Scheme. Nevertheless, this in So way minimizes the significant change of front.
Planning,-for War May Help
Reconstruction In Peace For many years past the industry travelled along a very hard road, where it met innumerable obstacles of various kinds. It would seem, however, that the exigencies of war have succeeded in accelerating the pace of organization and considered planning to a degree which—in normal circumstances--might have taken many years to achieve, if, indeed this ever were accomplished. In consequence, with a return of peace, one may anticipate for the industry a period of constructive progress and prosperity.
There is one aspect in connection with 'associations upon which little attention has been focused. I refer to the inadvisability of those who are not actual owners of vehicles being invested with the powers of directing the policy and affairs of an operators' association. Transport managers are a highly capable body of men who, in their own sphere of control and administration, fill an important place in the transport world. It is doubtful, however, whether transport executives representing C-licence holders are in their rightful place as legislators in matters concerning the haulier.
Already there is in existence an important organizalion specially constituted to cater for transport managers; and it would appear that this is the sphere to which their activities should be confined. As many are large buyers of transport they' are' not in a position fully to appreciate the hauliers' point of view. Therefore they should not be empowered to vote upon questions which concern only the Aand B-licence holders. One issue must—sooner or later—be decided in respect of the future representation of the industry. That is whether it shall be in the form of one national association embracing all classes. of licence holder or whether there shall be one association for only the professional haulier. If it 'be the former. I submit that not only transport managers but C-licence holders themielves should have no voice in deciding matters exclusive to the hauliers. If it be the latter, this situation would not arise. I realize that in expressing this view I run the risk of bringing down a hornets' nest. Nevertheless, I know that I am putting forward the point of view of many hauliers who feel very sore on the matter. Are they to be blamed when it is remembered that, frequently, they have been played one against the other for the purpose of securing a rate at an . uneconomic . level? One outstanding feature of the Government scheme is that there will be guaranteed rates freed from outside interference.
Th9 Post-war Position of the Ancillary Operator Another matter which must receive attention in postwar planning is the position of the C-licensee. Will he enjoy the pre-war freedom of expanding his fleet at a nominal licence cost, or will he be called upon to show proof of need and to pay the same licence fee as the haulier? I am fully aware of the argument to the effect that the one carries merely his own goods, whereas the other operates for hire or reward. But surely, as both enjoy the full use of the roads and any relaxation` of regulations governing the use of motor vehicles, then both should pay a similar licence fee. In fact, there is no logical argument to the contrary.
The question as to wlaetherthe C-licensee should be brought into line with the haulier when seeking to acquire new vehicles is a highly contentious one. It would provide a subject for heated debate by the governing body of any association representing the two sections of the industry.
In pre-war days it was often asserted that many of the traffics carried by the large C-licence holders— although they were their own goods—should have been carried by'the hauliers. There i's, no .doubt, much to be said in favour of the argument. On the other hand, equally much can be said against it. In this connection one is mindful of the bulk loads—particularly those concerned with the cotton and wool industries—carried necessarily between one mill or factory and another during the various stages of manufacture and processing. Surely this is an instance of trhffic which should be dealt with by hauliers?
The •several matters dealt with in this article will inevitably demand consideration and delibsration in planning post-war schemes. Those who may control the future destinies of the industry would do well to ponder concerning these problems.