RENEW VEHICLE LICENCES EARLY (1WNERS o f motor vehicles who kJ
19th December 1941
Page 23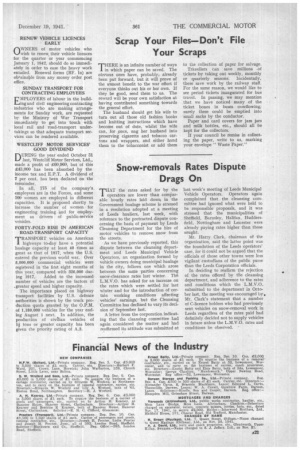 Page 23, 19th December 1941 —
RENEW VEHICLE LICENCES EARLY (1WNERS o f motor vehicles who kJ
Close
wish to renew. their vehicle licences for the quarter or year commencing January 1, 1942, should do so immediately in order to ease the heavy work entailed. Renewal forms (RF. la) are obtainable from any money order post office.
• SUNDAY TRANSPORT FOR CONTRACTING EMPLOYEES MPLOYERS of labour in the buildLaing and civil engineering contracting industries who are making arrangements for Sunday work, are requested by the Ministry of War Transport immediately to get into touch with local rail and road-transport undertakings so that adequate transport services can be rendered available.
WESTCLIFF MOTOR SERVICES' GOOD DIVIDEND
J)URING the year ended October 31 last, Westcliff Motor Services, Ltd., made a profit of £60,960, but of this £43,000 has been absorbed by the income tax and E.P.T. A dividend of 7 per cent, has been declared on the remainder.
In all, 175 of the company's employees are in the Forces, and some 100 women are employed in different capacities. It is proposed shortly to increase the number of women for engineering training and for employment as drivers of public-service vehicles.
FORTY-FOLD RISE IN AMERICAN ROAD-TRANSPORT CAPACITY TRANSPORT vehicles on American / highways to-day have a potential haulage capacity at least 40 times as great as that of 1917, when the U.S. entered the previous world war. Over 5,000,000 commercial vehicles were registered in the first eight months of this year, compared with 326,000 dur ing 1917. Added to the increased number of vehicles are the factors of .greater speed and higher capacity.
The importance placed on highway transport facilities by U.S. defence authorities is shown by the truck production quota granted by the O.P.M. of 1,189,000 vehicles for the year ending August 1 next. In addition, the production of civilian vehicles of lf tons or greater capacity has been given the priority rating of A.3.