UNITED STATES TAKES CENSUS OF OPERATORS
19th December 1941
Page 22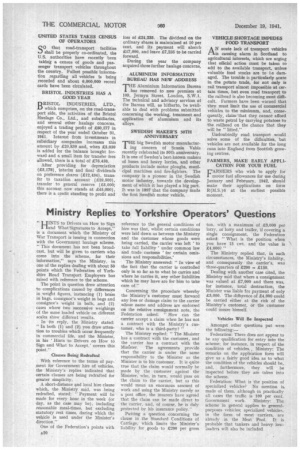 Page 22, 19th December 1941 —
UNITED STATES TAKES CENSUS OF OPERATORS
Close
S0 that road-transport facilities shall be properly co-ordinated, the U.S. authorities have recently been taking a census of goods and passenger transport vehicles throughout the country. Fullest possible information regarding all vehicles is being recorded and about 6,000,000 record cards have been circulated.
BRISTOL INDUSTRIES HAS A GOOD YEAR
BRISTOL INDUSTRIES, LTD.. which comprises, on the road-transport side, the activities of the Bristol Haulage Co., Ltd.. and subsidiaries, and several other haulage concerns, enjoyed a trading profit of £50,577 in respect of the year ended October 31, 1941. Interest from investments in subsidiary companies increases this amount by £20,839 and, when £5,030 is added for the balance brought forward and a small item for transfer fees allowed, there is a total of £76,458.
After providing for depreciation (£5,178), interim and final dividends on preference shares (£12,434), transfer to taxation account (£29,500), transfer to general reserve (£5,000; this account now stands at £45,000), there is a credit standing to profit and
loss of £24,235. The dividend on the ordinary shares is maintained at 10 per cent, and its payment will absorb £17,000, and leave £7,235 to be carried forward.
During the year the company acquired three further haulage concerns, ALUMINIUM INFORMATION BUREAU HAS NEW ADDRESS
THE Aluminium Information Bureau has removed to new premises at 109, jermyn Street, London, S.W.1. The technical and advisory services of the Bureau will, as hitherto, be available to deal with problems submitted concerning the working, treatment and application of aluminium and its alloys.
SWEDISH MAKER'S 50TH ANNIVERSARY
THE big Swedish motor manufacturing concern of Scathe. Vabis recently celebrated its 50th anniversary. It is one of Sweden's best-known makers of buses and heavy lorries, and other products include motor ploughs, municipal machines and fire-fighters. The company is a pioneer in the Swedish motor industry, towards the development of which it has played a big part. It was in 1897 that the company made the first Swedish motor vehicle.
VEHICLE SHORTAGE IMPEDES FOOD TRANSPORT
AN acute lack of transport vehicles is causing alarm in Scotland to agricultural interests, which are urging that official action must be taken to add to the available transport, unless valuable food stocks are to he damaged. The trouble is particularly acute in the potato trade, for not only is rail transport almost impossible at certain times, but even road transport to the railhead is also becoming most difficult. Farmers have been warned that they must limit the use of commercial vehicles to the minimum, and, consequently, claim that they cannot afford to waste petrol by carrying potatoes to the railhead on the chance that they will be "lifted."
Undoubtedly road transport would solve some of the difficulties, but vehicles are not available for the long runs into England from Scottish growing centres.
FARMERS, MAKE EARLY APPLICATION FOR YOUR FUEL
FARMERS who wish to apply for motor fuel allowances for use during January and February, 1942, should make their applications on form R(M.S.)6 at the earliest possible moment.