MR. SEWILL TO MANAGE HAULIERS' TRAFFIC POOL
19th December 1941
Page 21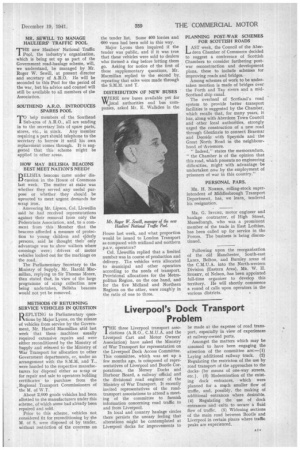 Page 21, 19th December 1941 —
MR. SEWILL TO MANAGE HAULIERS' TRAFFIC POOL
Close
Keywords :
THE new Hauliers National Traffic Pool, the industry's organization, which is being set up as part of the Government road-haulage scheme, will, we understand, be managed by Mr. Roger W. Sewill, at present director and secretary of A.R.O. He will be seconded to this Pool for the period of the war, but his advice and counsel will still be available to all members of the Association.
SOUTHEND A.R.O. INTRODUCES SPARES POOL
'Phelp members of the Southend ub-area of A.R.O., all are sending in to the secretary lists of spare parts,
stores, etc., in stock. Any member requiring a part should telephone to the secretary to borrow it until his own replacement comes through. It is suggested that this scheme might be applied in other areas.
HOW MAY BELISHA BEACONS BEST MEET NATION'S NEED?
BELISHA beacons came under discussion in the House of Commons last week. The matter at stake was whether they served any useful purpose or whether they should be uprooted to meet urgent demands for scrap iron.
Answering Mr. Lipson, Col. Ldewellin said he had received representations against their removal from only the Pedestrians Association, and, to a comment from ' this Member that the beacons afforded a measure of protection to young children and elderly persons, said he thought their only advantage was to show walkers where crossings were ; drivers of motor vehicles looked out for the markings on the road.
The Parliamentary Secretary to the Ministry of Supply, Mr. Harold Macmillan, replying to Sir Thomas Moore, then stated that, in view of the large programme of scrap collection now being undertaken, Belisha beacons would not yet be removed.
METHODS OF RETURNING SERVICE VEHICLES IN QUESTION
REPLYING to Parliamentary questions by Major Lyons, on the release of vehicles from service by the Government, Mr. Harold Macmillan said last week that these machines usually required extensive repairs and were either reconditioned by the Ministry of Supply and released to the Ministry of War Transport for allocation to other Government departments, or, under an arrangement with the S.M.M. and T., were handed to the respective manufacturers for disposal either as scrap or for repair and sale to operators holding certificates to purchase from the Regional Transport Commissioners of the M. of W.T.
About 2,000 goods vehicles had been allotted to the manufacturers under this scheme, of which some had already been repaired and sold.
Prior to this scheme, vehicles not considered fit for reconditioning by the
M. of S. were disposed of by tender, without restriction of the concerns on
the tender list. Some 400 lorries and 600 vans had been sold in this way.
Major Lyons then inquired if the tender was public, and if it was true that these vehicles were sold to dealers who formed a ring before letting them go. Asking for notice of the first of these supplementary questions, Mr. Macmillan replied to the second by repeating that sales were made through the S.M.M. Sand T.
DISTRIBUTION OF NEW BUSES WERE new buses available yet for Miocal authorities and bus companies, asked Mr. E. Walkden in the House last week, and what proportion would be issued to London Transport as compared with midland and northern p.s.v. operators?
Col. Llewellin replied that a limited number was in course of production and delivery. TI.e vehicles were allocated to municipal and other operators according to the needs of transport. Provisional allocations for the Metropolitan Region, on the one hand, and for the five Midland and Northern Regions on the other, were roughly in the ratio of one to three. PLANNING POST-WAR SCHEMES FOR SCOTTISH ROADS
LAST week, the Council of the Aberdeen Chamber of Commerce decided to suggest a conference of Scottish Chambers to consider furthering postwar reconstruction and development plans, these to include schemes for improving roads and bridges.
Among schemes of work to be undertaken mention is made of bridges over the Forth and Tay rivers and a raid. Scotland ship canal.
The overhaul of Scotland's road system to provide better transport facilities is suggested by the Chamber, which recalls that, for many years, it has, along with Aberdeen Town Council and other local authorities, strongly urged the construction of a new road through Glenfinzie to connect Braemar and Deeside with Speyside and the Great North Road in the neighbourhood of Aviemore.
" Indeed," states the memorandum, the Chamber is of the opinion that this road, which presents no engineering difficulties, might with advantage be undertaken now by the employment of prisoners of war in this country."
PERSONAL PARS.
Mu. H. NORRIS, rolling-stock superintendent of Middlesbrough Transport Department, has, we learn, tendered his resignation.
Ma. G. IaviNE, motor engineer and haulage contractor, of High Street, Musselburgh, who was a prominent member of the trade in East Lothian, has been called up for service in the Forces. The business is being discontinued.
Following upon the reorganization of the old Manchester, South-east Lanes, Bolton, and Burnley areas of the C.M.U.A. into the North-western Division (Eastern Area), MR. W. H. STOREY, of Nelson, has been appointed full-time organizer to develop this territory. He will shortly commence a round of calls upon operators in the various districts.