A REMARKABLE OFFICIAL REPORT.
19th August 1919
Page 12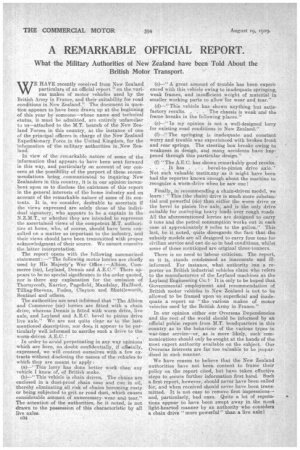 Page 12, 19th August 1919 —
A REMARKABLE OFFICIAL REPORT.
Close
What the Military Authorities of New Zealand have been Told About the British Motor Transport.
WE HAVE recently received from New Zealand particulars of an official report "on the various makes of motor vehicles used by the British Army in France, and their suitability for road conditions in New Zealand." The document in question appears to have been drawn up at the beginning of this year by someone—whose name and technical status, it must be admitted, are entirely unfamiliar to us—attached to the M.T. branch of the New Zealand Forces in this country, at the instance of one of the principal officers in charge of the New Zealand Expeditionary Force in the United Kingdom, for the
• information of the military authorities in New Zealand.
In view of the remarkable nature of some of the information that appears to have been sent forward in this way, and particularly on account of our concern at the possibility of the purport of these recommendations being communicated to inquiring New
' Zealanders in this country, it is in our opinion incumbent upon us to disclose the existence of this report in the general interests of the home industry and on account of the remarkable nature of some of its contents. It is, we consider, desirable to ascertain if the views expressed are solely those of the individual signatory, who appears to be a captain in the N.Z.M.T., or whether they are intended to represent the ascertained views of the competent M.T. authorities at home, who, of course, should have been consulted on a matter so important to the industry, and their views should have been transmitted with proper acknowledgment of their sourceWe cannot conceive the latter interpretation.
The report opens with the following summarized statement :—" The following motor lorries are chiefly used by His Majesty's War Office :—Alhion, Commerce (sic), Leyland, Dennis and A.E.C." There appears to be no special significance in the order quoted, nor is there any explanation for the omission of Thornycroft, Karrier, Pagefield, Maudslay, Hallford, Tilling-Stevens, Foden, Clayton and Shuttleworth, Sentinel and others.
The authorities are next informed that "The Albion and Commerce (sic) lorries are fitted with a chain drive, whereas Dennis is fitted with worm drive, live axle, and Leyland_ and A.E.C. bevel to pinion drive live axle." We are not quite clear as to the lastmentioned description, nor does it appear to be particularly well informed to ascribe such a drive to the worm-driven A.E.C. ! .
In order to avoid perpetuating in any way opinions which are here, no doubt confidentially, if offimially, expressed, we will content ourselves with a few extracts without disclosing the names of the vehicles to which they are meant to apply : (a)—" This lorry has done better work than any vehicle I know of, of British make. .
(b)—" This vehicle is chain driven. The chains are enclosed in a dust-proof chain case and run in oil, thereby eliminating .all risk of chains becoming rusty or being subjected to grit or road dust, which causes considerable amount of unnecessary Rear and tear." The attention of the authorities, be it noted, is not drawn to the possession of this characteristic by all live axles.
c34 (c)—" A great amount of trouble has been experienced with this vehicle owing to inadequate springing, weak frames, and insufficient weight of material in smaller working parts to allow for wear and tear."
(d)—" This vehicle has shown anything but satis factory results. . . The chassis is weak and the frame breaks in the following places."
(e)--" In my opinion is not a well-designed lorry for existing road conditions in New Zealand."
(f)—" The springing is inadequate and constant worry and trouble was experienced with broken front and rear springs. The steering box breaks owing to weakness in design, and many accidents have happened through this particular design."
(f) "The A.E.C. has shown remarkably good results.
. . . It has . . bevel-to-pinion drive axle." Not such valuable testimony as it might have been had the reporter known enough about the machine to recognize a worm-drive when he saw one
Finally!, in recommending a chain-driven model, we learn : " This (the chain) drive is much more substantial and powerful (sic) than either the worm drive or the bevel to pinion live axle, and is the only drive suitable for conveying heavy loads over rough roads All the aforementioned lorries are designed to carry 3 tons and the petrol consumption works out in each case at approximately 9 miles to the gallon." This last, be it noted, quite disregards the fact that the subsidy models are all designed to carry four tons for civilian service and can do so in bad conditions, whilst some of those mentioned are original three-tonners.
There is no need to labour criticism. The report, as it is, stands condemned as inaccurate and illinformed. For instance, what authority can a reporter on British industrial vehicles claim who refers to the manufacturers of the Leyland machines as the Leyland Engineering Co.?' Pt is only to be hoped that. Governmental employment and recommendation of British motor vehicles in New Zealand is not to be allowed to be framed upon .so superficial and inadequate a report on "the various makes of motor vehicles used by the British Army in France."
In our opinion either our Overseas Dependencies and the rest of the world should he informed by an official public report from M.T. headquarters in this country as to the behaviour of the various types in war-time service—or, as is more likely, such -communications should only be sought at the hands of the most expert authority available on the subject. Our Overseas interests are far too valuable to be jeopardised in such manner.
We have reason to believe that the New Zealand authorities have not been content to frame their policy on the report cited, but have taken effective steps to secure further information first hand. Such a first report, however, should never have been called for, and when received should never have been transmitted. It is not easy to remove first impressions— and, particularly, bad ones. Quite a lot of reputations appear to have been swept away in the most light-hearted manner by an authority who considers a chain drive "more powerful" than a live axle!