Opinions from Others.
19th April 1917
Page 15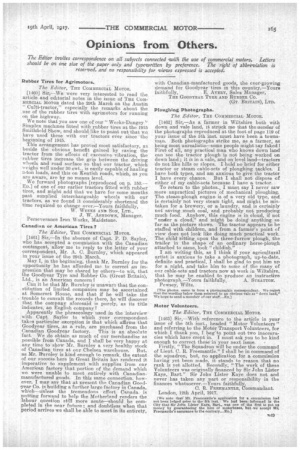 Page 15, 19th April 1917 —
Opinions from Others.
Close
The Editor invites correspondence on all subjects connected svilh the use of commercial motors. Letters should be on one sloe of the paper only and typewritten by preference. The right of abbreviation is reserved, and no responsibility for views expressed is accepted.
Rubber Tires for Agrimotors.
The Editor, THE COMMERCIAL MOTOR. [1460] Sir,—We were very interested to read the article and editorial notes in the issue of THE COMMERCIAL MoToil dated the 29th March on the Austin " Culti-tractor," especially the remarks about the use of the rubber tires with agrimotors for running on the highway.
We note that you saw one of our " Weeks-Dungey "
Simplex machines fitted with rubber tires at the 1915 Smithfield Show, and should like to point out that we have used these with our tractors ever since the beginning of 1915. This arrangement has proved most satisfactory, as beside the obvious benefit gained by saving the tractor from the effects of excessive vibration, the rubber tires increase the grip between the driving wheels and road surface so that our tractor, which -weighs well under 30 cwt. is easily capable of hauling 3-ton loads, and this on Kentish roads, winch, as you are aware, are by no means level. . We forward photographs [reproduced on p, 152.— ED.] of one of our earlier tractors fitted with rubber tires, and might add that we have for some months past supplied interchangeable wheels with our tractors, as we found it considerably shortened the time required to change over.—Yours faithfully, W. WEEKS AND SON, LTD., J. W. ASHDOWN, Manager. Perseverance Iron Works, Maidstone.
Canadian or American Tires ?
The Editor, THE COMMERCIAL MOTOR. [1461] Sir,—In the absence of Capt. P. a Saylor, who has accepted a commission with the Canadian contingent, allow me to reply to the letter of your correspondent, Mr. A. C. Burnley, which appeared in your issue of the 29th March,
May I, in the beginning, thank Mr. Burnley for the opportunity he has afforded me to correct an impression that may be shared by others—to wit, that the Goodyear Tyre and Rubber Co. (Great Britain), Ltd., is an American concern ?
Can it be that Mr. Burnley is unaware that the constitution of limited companies may be ascertained at Somerset House, and that if he will take the . trouble to consult the records there, he will discover that the company aforesaid is purely, as its title indicates, an English company'?
Apparently the phraseology used in the interview with Capt. Saylor to which your correspondent takes particular exception is that which affirms that Goodyear tires, as a. rule, are purchased fromthe Canadian Goodyear factory. This is an absolute fact. We .do obtain as much of our merchandise as possible from Canada, and I shall be very happy at any time to show Mr. Burnley a very healthy stock of Canadian tires at our Chelsea warehouse. But, as Mr. Itarnley is kind enough to remark, the extent of our success here in Great Britain has rendered it imperative to supplement with supplies from our American factory that portion of the demand which we were unable to meet entirely with Canadianmanufactured goods. In this same connection, however, I may say that at present the Canadian GoodTear Co. is building a further large factory in Canada, which—unlesa the tremendous effort Canada is nutting forward to help the Motherland renders the labour question still more acuteshould be completed in the near future and doubtless when that period arrives we shall be able to meet in its entirety,
with Canadian-manfactured goods, the ever-growing demand for Goodyear tires in this country.—Yours
faithfully, E. AVERY, Sales Manager, THE GOODYEAR TYRE AND RUBBER CO.
(GT. BRITAIN), LTD.
Ploughing Photographs.
The Editor, THE COMMERCIAL MOTOR.
[1462] Sir,—As a farmer in Wiltshire both with down and vale land, it struck me that the Isender of the photographs reproduced at the foot of page 119 of your issue of the 5th inst. must have been a townsman. Both photographs strike me, as a farmer, as being most unrealistic—some people might say faked! First of all, any practical man who knows down land can see the tractor plough is not being worked on down land ; it is in a vale, and on level land—tractors do not like hills or slopes. I hold no brief for either tractor or steam cable-sets of ploughing tackles. I have both types, and am anxious to give the tractor I have every chance. But I shall not dispose of either of my cable-sets because I have a tractor.
To return to the photos., I must say I never saw more unpractical pictures of mechanical ploughing. The steam-.plough engine is of a very old type, and is certainly not very steam tight, and might be mistaken for a, brewery, or a, laundry, and is certainly not saving much coal, and probably not producing much food. Anyhow, this engine is in cloud, if not "under a cloud,' and might be doing anything so far as the picture shows. The tractor appears to he staffed with children, and from a farmer's point of view does not look like doing much practical work. The child sitting upon the three-furrow plough, the trailer in the shape of an ordinary horse-plough attached to same, look "childish."
I am writing this, as I think if your agricultural artist is anxious to ,take a photograph, up-to-date, definite and practical, I shall be glad. to put him up for a night, and take him to some of the many of our cable-sets and tractors now at work in Wiltshire, that he may be enabled to produce an instructive photograph.—Yours faithfully, A. STRATTON. Pewsey, Wilts.
[The photos. came in from a photographic correspondent. We regret that the wording below them referred to an obvious vale as" down land," We hope to send a member of our staff—En3 Motor Volunteers.
The Editor, THE COMMERCIAL MOTOR.
[1463] Sir,—With reference to the article in your issue of the 5th inst. headed "Motor Volunteers" and referring to the Motor Transport Volunteers, for which I thank you, I beet° point out two inaccuracies which have crept in. I must ask you to be kind enough to correct these in your next issue.
Firstly, "The Squadron will be under the command of Lieut. C. R. Freenaantle." I shall be in command of the squadron, but, no application for a commission having -yet been made, it stands to reason that no rank is yet allotted. Secondly, "The work of these Volunteers was originally financed by Sir John Lister Kay,e, Bart." Sir John Lister Kaye does not and never has taken any part or responsibility in the
finances whatsoever.—Yours faithfully,
0, R. FREEMANTLE, Commandant.
London, 12th April, 1917.
fWe note that/ Mk. Ereemantle's application for a commission had not been lodged prior to the 5th inst. We had been informed in the City that Sir John Lister Kaye, Bart., was one of the Arid to put up money by guaranteeing the hire of motorbuses, but. we accept Mr, Freemantle's assurance to the contrary,--En.]