.M. of T. and Technical Press -F-HE new Minister of
18th October 1940
Page 49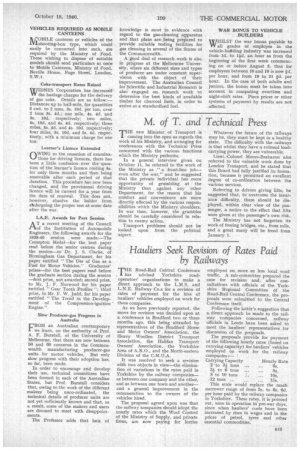 Page 49, 18th October 1940 —
.M. of T. and Technical Press -F-HE new Minister of
Close
Transport is 1 coming into the open as regards the work of his Ministry, and arranging for conferences with the Technical Press concerned with the various functions which the Ministry performs.
In a general interview given on October 11, he referred to the work of the Ministry as ." a front-line job— even after the war," and he suggested that the private individual has more opportunity of grumbling at the Ministry than against any other Department, for the reason that his comfort and convenience are more directly affected by the various responsibilities which the Ministry shoulders. In war time, however, the grumbles should be carefully considered in relation to enemy action.
Transport problems should not be looked upon from the political aspect. Whatever the future of the railways may be, they must be kept in a healthy state. The difficulty with the railways is that whilst they have a colossal loadcarrying power, they are vulnerable.
Lieut.-Colonel Moore-Brabazon also referred to the valuable work done by London Transport, and he stated that this Board had fully justified its formation, because it permitted an excellent degree of co-ordination between the various services.
Referring to drivers giving lifts, he suggested that, to overcome the insurance difficulty, there should be displayed, within clear view of the passenger, a notice to the effect that lifts were given at the passenger's own risk.
The Ministry has not forgotten its work of freeing bridges, etc., from tolls, and a great many will be freed from January I.