Hauliers Seek Revision of Rates Paid by Railways
18th October 1940
Page 49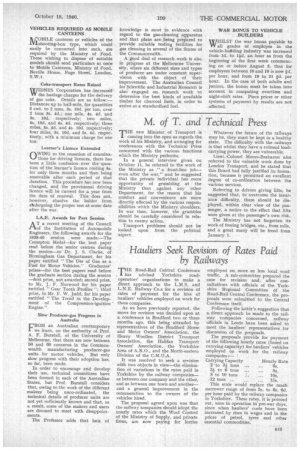 Page 49, 18th October 1940 —
Hauliers Seek Revision of Rates Paid by Railways
Close
THE Road-Rail Central Conference has advised Yorkshire roadoperators' organizations to make a direct approach to the L.M.S. and L.N.E. Railway Co.s for a revision of rates of payment for the hire of hauliers' vehicles employed on work for these companies.
As we have previously reported, the move for revision was decided upon at a conference in Bradford two or three months ago, this being attended by representatives of the Bradford Horse and Motor Owners' Association, the Heavy Woollen District Transport Association, the Halifax Transport Owners' Association, the Yorkshire Area of A.R.O., and the North-eastern Division of the C.M.U.A.
It was resolved to seek a revision with two objects in view—the elimination of variations in the rates paid in Yorkshire by the railway companies— as between one company and the other, and as between one town and another— and a general improvement in the remuneration to the owners of the vehicles hired.
The proposal agreed upon was that the railway companies should adopt the hourly rates which the Wool Control of the Ministry of Supply, and private firms, are now paying for lorries employed on more or less local wool traffic. A sub-committee prepared the case for revision and, after consultations with officials of the Yorkshire Regional Committee of the Road-Rail Central Conference, the proposals were submitted to the Central Conference itself.
Following the latter's suggestion that a direct approach be made to the railway companies concerned, railway officials in Leeds have been asked to meet the hauliers' representatives for discussion of the proposals.
The proposals provide for payment of the following hourly rates (based on carrying capacity) for hauliers' vehicles employed on work for the railway companies Carrying Capacity Hourly Rate 2 ' to 3i tons ... 6s.
ai to 6 tons ... 8s.
8 to 10 tons ... 10s.
-12 tons ... ... 15s.
This scale would replace the much narrower range of from 5s. to 8s. 6d. per hour paid by the railway companies in Yorkshire. These rates, it is pointed out, were in operation in' pre-war days, since when hauliers' costs have been increased by rises in wages and in the prices of petrol, tyres and other essential commodities. ,