One Hears
18th October 1940
Page 45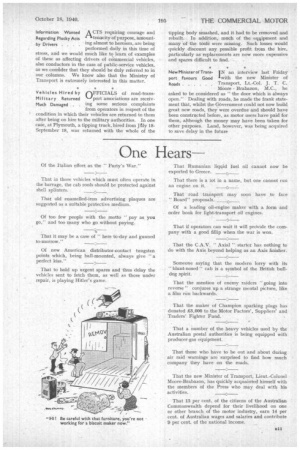 Page 45, 18th October 1940 —
One Hears
Close
Of the Italian effort as the "Party's War."
That in those vehicles which must often operate in the barrage, the cab roofs should be protected against
shell splinters.' C.
That old enamelled-iron advertising plaques are suggested as a suitable protective medium.
Of too few people with the motto "pay as you go," and too many who go without paying.
That it may be a case of "here to-day and gunned to-morrow."
Of new American distributor-contact tungsten points which, being ball-mounted, always give "a perfect kiss."
That to hold up urgent spares and thus delay the vehicles sent to fetch them, as well as those under repair, is playing Hitler's game. That Rumanian liquid fuel oil cannot now be exported to Greece.
That there is a lot in a name, but one cannot run an engine on it.
That road transport may soon have to face "Board" proposals.
Of a leading oil-engine maker with a form and order book for light-transport oil engines.
That if operators can wait it will prdvide the company with a good fillip when the war is won.
That the C.A.V. " Axial " starter has nothing to do with the Axis beyond helping as an Axis finisher.
Someone saying that the modern lorry with its " blunt-nosed " cab is a symbol of the British bulldog spirit.
That the mention of enemy raiders "going into reverse" conjures up a strange mental picture, like a film run backwards.
That the maker of Champion sparking plugs has donated £5,000 to the Motor Factors', Suppliers'' and Traders' Fighter Fund.
That a number of the heavy vehicles used by the Australian postal authorities is being equipped with producer-gas equipment.
That those who have to be out and about during air raid warnings are surprised to find how much company they have on the roads.
That the new Minister of Transport, Lieut.-Colonel Moore-Brabazon, has quiekly acquainted himself with the members of the Press who may deal with his activities.
That 13 per cent. of the citizens of the Australian Cornmnnwealth depend for their livelihood on one or other branch of the motor industry, earn 14 per cent. of Australian wages and salaries and contribute 9 per cent, of the national income.