Meeting Urgent Maintenance Needs
18th October 1940
Page 44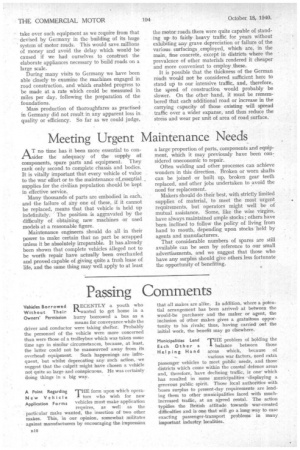 Page 44, 18th October 1940 —
Meeting Urgent Maintenance Needs
Close
AA T no time has it been more essential to con1'..sider the adequacy of the supply of components, spare parts and equipment. They rank only second to complete chassis and bodies. It is vitally important that every vehicle of value to the war effort or to the maintenance otessential supplies for the civilian population should be kept in effective service.
Many thousands of parts are embodied in each, arid the failure of any one of these, if it cannot be replaced, means that that vehicle is held up indefinitely. The position is aggravated by the difficulty of obtaining new machines or used models at a reasonable figure.
Maintenance engineers should do all in their power to make certain that no part be scrapped unless it be absolutely irreparable. It has already been shown that complete vehicles alleged not to be worth repair have actually been overhauled and proved capable of giving quite a fresh lease of life, and the same thing may well apply to at least a large-proportion of parts, components and equipment, which it may previously have been considered uneconomic to repair.
Often welding and other processes can achieve wonders in this direction. Broken or worn shafts can be joined or built up, broken gear teeth replaced, and other jobs undertaken to .avoid the need for replacement.
Makers should do their best, with strictly limited supplies of material, to meet the most urgent requirements, but operators might well be of mutual assistance. Some, like the wise virgins, have always maintained ample stocks ; others have been inclined to follow the policy of living from hand to mouth, depending upon stocks held by agents and manufacturers.
That considerable numbers of spares are still available can be seen by reference to our small advertisements, and we suggest that those who have any surplus should give others less fortunate the opportunity of benefiting. •