Straker-Squire.
18th October 1921
Page 53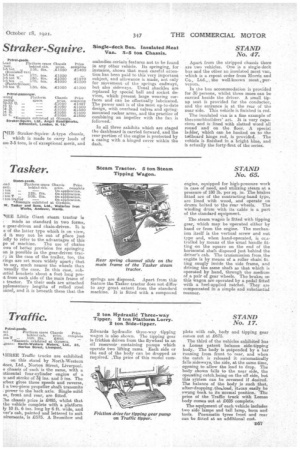 Page 53, 18th October 1921 —
Straker-Squire.
Close
Single-deck Bus. Insulated Meat Van. 5.-5 ton Chassis.
STAND No. 47.
nIIE. Straker-Squire. A-type chassis, which is made to carry loads of mu 3-5 tons, is of exceptional merit, and
embodies certain features not to he found in any other vehicle, its springing, for instance, shows that most careful attention has been paid to this very important subject, and allowance is made, not only for movement of the 'springs endways, but also sideways. Usual shackles are replaced by special ball and socket devices, which present large wearing surfaces and can be effectually lubricated. The power unit is of the most up-to-date design, with overhead valves and springmounted rocker arms and the practice of combining an impeder with -the fan is followed.
In all three exhibits which are staged the dashboard is carried forward, and the rear portion of the engine is protected by a casing with a hinged cover within the dash.
Apart from the stripped chassis there are two vehicles. One is a single-deck bus and the other an insulated meat van, which is a repeat order from Morris and Co., Ltd.,.. the well-known meat (purveyors.
In the bus accommodation is provided for 30 persons, whilst three more can be carried beside the driver. A small tipup seat is provided for the conductor, and the entrance is at the rear of the near side. This vehicle is finished in red.
The insulated van is a fine example of theicoachbuilders' art. It is very capacious and is lined with slatted wood all round and on the floor. A special ladder, which can be hooked on to the tailboard hinge rod, is provided. The vehicle is finished in a bright blue, and is actually the forty-first of the series.