Labour Causes Most Dock Delays
18th November 1955
Page 59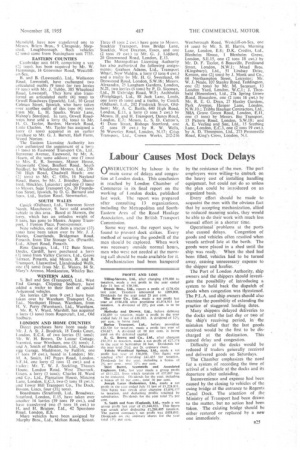 Page 59, 18th November 1955 —
Labour Causes Most Dock Delays
Close
rIBSTRUCTION by labour is the \-1 main cause of delays and congestion at London docks. This conclusion is reached by London Chamber of Commerce in its final report on the working of London docks, published last week. The report Was prepared after consulting 13 organizations, including the Metropolitan and SouthEastern Area of the Road Haulage Association, and the British. Transport Commission.
Some way must, the report says, he found to prevent dock strikes. Every method of securing the goodwill of the men should be explored. When work was necessar2, outside normal hours, men who were not needed at the morning call should be made available for it.
Mechanization had been hampered by the resistance of the, men. The port employers were willing—to embark on the heavy cost of installing handling equipment, but could not do so unless the plan could be introduced on an organized basis.
Every effort should be made to acquaint the men with the obvious fact that by accepting mechanization, allied to reduced manning scales, they would be able to do their work with much less manual effort in a shorter time.
Operational problems at the ports also caused delays. Congestion of goods and vehicles often resulted when vessels arrived tate at the berth. The goods were placed in a shed until the ship was ready. When the shed had been filled, vehicles had to be turned away, causing unnecessary expense to the shipper and haulier.
The Port of London Authority, ship owners and the shippers should investigate the possibility of introducing a system to hold back the dispatch of goods when congestion was threatened. The P.L.A. and ship owners should also examine the possibility of extending the practice of staggered loading dates.
Many shippers delayed deliveries to the docks until the last day or two of the ship's receiving period, in the mistaken belief that the fast goods received would be the first to be discharged at the destination. This caused delay and congestion.
Difficulty at the docks would be reduced if traders generally received and delivered goods on Saturdays.
• The Chamber emphasizes the need for a stem of recording the time of arrival .cif a vehicle at the docks and its departure after unloading, Inconvenience and expense had been caused by the closing to vehicles of the swing bridge at the entrance to Regents Canal Dock. The attention of the. Ministry of Transport had been drawn to the matter, but no action had been taken. The existing bridge should be either restored or replaced by a new one immediately.