ONE HEARS
18th May 1926
Page 3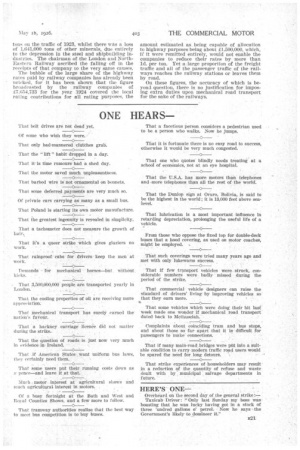 Page 3, 18th May 1926 —
ONE HEARS
Close
That belt drives are not dead. yet.
Of some who wish they were.
That only bad-mannered chitehes grab'.
That the "'lift" habit dropped. in a day.
That it-in time rumours had a shed day.
That the motor saved much unpleasantness.
That barbed wire is not ornamental on bonnets.
That some deferred payments are very much so. Of private cars carrying as many as a small bus.
That Poland is starting its own motor manufacture.
That the greatest ingenuity is revealed in simplicity.
That a tachometer does not measure the growth of hair.; That it's a .queer strike -which gives glaziers no work.
That rainproof cabs for drivers keep the men at work.
Demands for mechanical horses—but withOnt kieks.
• That 3,500,000,000 people are transported yearly in London. .
That the cooling properties of oil are receiving more a pp reel ation
That mechanical transport has surely earned the natidn's favour. ; That a hackney carriage licence did not matter during the strike..
That the'question of roads is. just now very much in eviderice.in Ireland.
That if American Stateswant uniform bus laws, they certainly need them. • That some users put their running costs down as pence—and leave it at that.
• Much motor interest at agricultural shows and much agricultural interest in motors.
Of a busy fortnight at the Bath and West and noyal Counties Shows, and a few more to follow.
That tramway authorities realize that the best way to meet bus competition is to buy buses. That a facetious person considers a pedestrian used to be a person who walks. Now he jumps.
That it is fortunate there is no easy road to success, otherwise it would be very much congested.
That one who quotes blindly needs treating at a school of economics, not at an eye hospital.
That the U.S.A. has more motors than telephones and more telephones than all the rest of the world.
That the Dunlop sign at Oruro, Bolivia, is said to be the highest in the world; it is 13,000 feet above sealevel.
That lubrication is a most important influence in retarding depreciation, prolonging the useful life of a From those who oppose the fixed top for double-deck buses that a hood covering, as used on motor coaches, might be employed. , That such coverings were tried many years ago and met with only lukewarm success.
That if few transport vehicles were struck, considerable numbers were badly missed during the period of the strike.
That commercial vehicle designers can raise the standard of drivers' living by improving vehicles so that they earn more.
a
That some vehicles which were doing their bit last week made one 'wonder• if mechanical road transport dated back to Methuselah.
Complaints about coinciding tram and bus stops, and about those so far apart that it is difficult for passengers to make' connections.
That if many main-road bridges were put into a suitable condition to carry modern traffic road users would be spared the need for long detours.
That strike experiences of householders may result' in a reduction of the quantity of refuse and waste dealt with by municipal salvage departments in future.
HERE'S ONE—
Overheard on the second day of the general strike:— Taxicab Driver: Only last Sunday my boss was boasting that he was lucky having got in a stock of three 'undred gallons o' petrol. Now he says the Government's likely to domineer it."