Job fear
18th march 1993
Page 6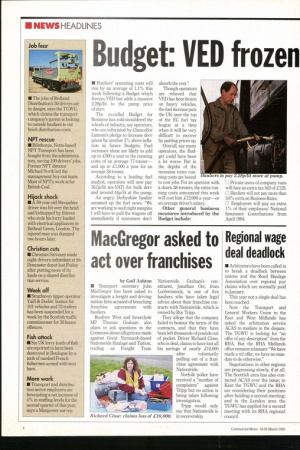 Page 6, 18th march 1993 —
Job fear
Close
• The jobs of Redland Distribution's 30 drivers are in danger, says the TGWU, which claims the transport company's parent is looking to outside hauliers to cut brick distribution costs.
NPT rescue • Bilsthorpe, Notts-based NPT Transport has been bought from the administrators, saving 190 drivers' jobs. Former NPT director Michael North led the management buy-out team. Most of NPT's work is for British Coal.
Hijack shock • A 59-year-old Shropshire driver was hit over the head and kidnapped by thieves who stole his lorry loaded with electrical appliances in Bethnal Green, London. The injured man was dumped two hours later.
Christian cuts • Christian Salvesen made eight drivers redundant at its Doncaster depot last Friday after putting more of its loads on a shared distribution service.
Week off • Strathaven tipper operator Yuill & Dodds' licence for 101 vehicles and 72 trailers has been suspended for a week by the Scottish traffic commissioner for 36 hours offences.
Fish attack • Six UK lorry loads of fish are reported to have been destroyed in Boulogne by a mob of masked French fishermen armed with iron bars.
More work • Transport and distribution sector employers are forecasting a net increase of 4% in staffing levels for the second quarter of this year, says a Manpower survey.