off
18th march 1993
Page 38
Page 39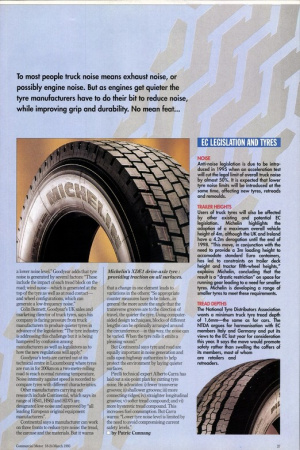 Page 38, 18th march 1993 —
off
Close
To most people truck noise means exhaust noise, or possibly engine noise. But as engines get quieter the tyre manufacturers have to do their bit to reduce noise, while improving grip and durability. No mean feat...
• European legislation aimed at reducing total truck noise will be in place by October 1995 when an acceleration test will force truck manufacturers to cut vehicle noise by almost half. Legislation affecting tyre noise is likely to be introduced at the same time, if a uniform method of testing can be agreed. Retreads and remoulds will have to meet the same requirements as new tyres.
However, the EC is weighed down by impending legislation, says Dr Kim Hardy, manager of Dunlop's dynamics laboratory, and has farmed out the problem of tyre noise to the United Nations Economic and Social Council Inland Transport Committee. The committee is meeting this week and will hear evidence from government and organisational experts on setting standards for noise reduction. Hardy believes the meeting is likely to prove inconclusive.
Ironically, much of the pressure for such legislation has come from a non-EC country, Austria, which already has stringent noise reduction laws. The forthcoming EC legislation will set a maximum level for a truck's overall noise including tyres, engine, gearbox, exhaust and other items. Austria's regulations were issued in 1989 and state that "vehicles of gross vehicle weight over 3,500kg and maximum speed exceeding 50 km/h must not have a noise level greater than 78dB(A) for vehicles with engine power up to 150kW, or 80dB(A) for vehicles with engine power more than 150kW".
The Austrian legislation bans vehicles with noise levels exceeding these limits from using major highways such as the Brenner Pass from 23.00-05.00hrs. The legislation also requires tyres for the first, second and third axles to include the manufacturer's name, tyre size and type. All vehicles passing through Austria are subject to these regulations.
Chris Waltley of the Tyre Industry Council says the EC is keen to match Austria's requirements for truck tyres, but he believes that the Department of Transport is in no hurry to draft new legislation in this area: "The Government reckons the recent introduction of 1.6mm minimum tyre tread depth for cars was enough tyre law for the moment," he says.
"Noise reduction is a major issue," says Richard Edy, director of the National Tyre Distributors' Association. Edy says Austria's stringent noise level control prevents some brands being sold in that country, and it also affects the use of retreads which are of "fundamental importance to the truck industry".
Don Evans, Dunlop's expert on tyre legislation, sits on the European Tyre and Rim Technical Organisation, a working party which feeds information to the European Commission. He reckons that ETRTO's main problem is trying to establish a test procedure for noise levels: At the same time the EC is backing research being carried out in the UK by the Transport Research Laboratory and in Germany by research specialist FIGI. "It is not known when the EC will receive all these reports," says Evans, "but ultimately tyres will face European regulations on all-type approval."
In addition to EC-backed research, tyre manufacturers are looking into the problem of noise reduction. Goodyear blames poor design for high noise levels: "The shape of a tyre's footprint is closely related to the aspect ratio, with higher aspect ratios having longer footprints. Shorter footprints generally show a lower noise level." Goodyear adds that tyre noise is generated by several factors: "These include the impact of each tread block on the road; wind noise which is generated at the top of the tyre as well as at road contact— and wheel configurations, which can generate a low-frequency noise."
Cohn Bennett, Goodyear's UK sales and marketing director of truck tyres, says his company is facing pressure from truck manufacturers to produce quieter tyres in advance of the legislation: "The tyre industry is addressing this challenge but it is being hampered by confusion among manufacturers as well as legislators as to how the new regulations will apply."
Goodyear's tests are carried out at its technical centre in Luxembourg where tyres are run in for 200km on a two-metre rolling road to reach normal running temperature. Noise intensity against speed is recorded to compare tyres with different characteristics.
Other manufacturers carrying out research include Continental, which says its range of HS41, HS62 and HD75 are designated low-noise and approved by "all leading European original equipment manufacturers".
Continental says a manufacturer can work on three fronts to reduce tyre noise: the tread, the carcase and the materials. But it warns that a change in one element leads to variations in the others: "So appropriate counter measures have to be taken...in general the more acute the angle that the transverse grooves are to the direction of travel, the quieter the tyre. Using computeraided design techniques, blocks of different lengths can be optimally arranged around the circumference in this way, the noise can be varied. When the tyre rolls it emits a pleasing sound."
But Continental says tyre and road are equally important in noise generation and calls upon highway authorities to help protect the environment by laying quieter surfaces.
Pirelli technical expert Alberto Carra has laid out a six-point plan for cutting tyre noise. He advocates: i) fewer transverse grooves; ii) shallower grooves; iii) more connecting ridges; iv) straighter longitudinal grooves; v) softer tread compound; and vi) more hysteretic tread compound. This increases fuel consumption. But Carra warns: "Lower tyre noise level is limited by the need to avoid compromising current safety levels."
E by Patric Cunnabe EC LEGISLATION AND 1YRES NOISr Anti-noise legislation is due to be introduced in 1995 when an acceleration test will cut the legal limit of overall truck noise by almost 50%. It is expected that lower lyre noise limits will be introduced at the same time, affecting new tyres, retreads and remoulds.
'AILER HEIGHTS Users of truck tyres will also be affected by other existing and potential EC legislation. Michelin highlights the adoption of a maximum overall vehicle height of 4m, although the UK and Ireland have a 4.2m derogation until the end of 1998. "This move, in conjunction with the need to provide a 3m loading height to accomodate standard Euro containers, has led to constraints on trailer deck height and tractor fifth-wheel heights," explains Michelin, concluding that the result is a "drastic restriction" on space for running gear leading to a need for smaller tyres. Michelin is developing a range of smaller tyres to meet these requirements.
TREAD DEPTHS The National Tyre Distributors Association wants a minimum truck tyre tread depth of 1.6mm—the same as for cars. The NTDA argues for harmonisation with EC members Italy and Germany and put its views to the EC last year for consideration this year. It says the move would promote safety rather than swelling the coffers of its members, most of whom are retailers and retreaders.