Rain Spoils Steam Rally
18th June 1954
Page 54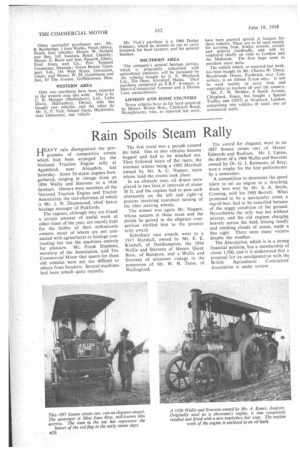 Page 54, 18th June 1954 —
Rain Spoils Steam Rally
Close
HEAVY rain disorganized the programme of competitive events which had been arranged for the National Traction Engine rally at Appleford, near Abingdon, last Saturday. Some 24 steam engines foregathered, ranging in vintage from an 1894 Wallis and Steevens to a 1934 Sentinel. Owners were members of the National Traction Engine and Tractor Association, the vice-chairman of which is Mr. J. N. Drummond, chief heavy haulage manager of Pick fords.
The engines, although they are found a certain amount of useful work at other times of the year, are mainly kept for the hobby of their enthusiastic owners, many of whom are not connected with agricultural or haulage contracting but run the machines entirely for pleasure. Mr. Frank Stephens, secretary of the Association, told The Commercial Motor that spares for these old vehicles were not too difficult to obtain from breakers. Several machines had been rebuilt quite recently.
The first event was a parade around the field. One or two vehicles became bogged and had to be winched out. Then followed heats of flat races, the eventual winner being a 1902 Marshall owned by Mr. A. C. Napper, upon whose land the events took place.
In an obstacle race, oil drums were placed in two lines at intervals of about 30 ft. and the engines had to pass each alternately on the left and right—a process involving continual turning of the tiller steering wheels.
The winner was again Mr. Napper, whose success in these races and the points he gained in the elegance competition entitled him to the premier rally award.
Subsidiary race awards went to a 1917 Marshall, owned by Mr. E. E. Kimbell, of Northampton, the 1894 Wallis and Steevens of Messrs. Quick Bros:, of Bampton, and a Wallis and Steevens of unknown vintage in the possession of Mr. W. H. Tame, of Wallingford. The award for elegance went to an 1897 Soame steam cart of Messrs. Edwards and Banham. Mr. J. Upton, the driver of a 1904 Wallis and Steevens owned by Dr. G. J. Romanes, of Bray, won a trophy for the best performance by a newcomer.
A competition to determine the speed taken to set an engine to a threshing drum was won by Mr. S. A. Smith, Creasing, with his 1900 Burrell. What promised to be a spectacular event, a tug-of-war, had to be cancelled because of the soggy condition of the ground. Nevertheless the rally was not without interest, and the old engines charging bravely across the field, hissing loudly and emitting clouds of steam, made a fine sight. There were many visitors despite the weather.
The Association, which is in a strong financial position, has a membership of about 1,500, and it is understood that a proposal for an amalgamation with the British Agricultural Contractors' Association is under review.