Surprises at Olympia
18th June 1954
Page 44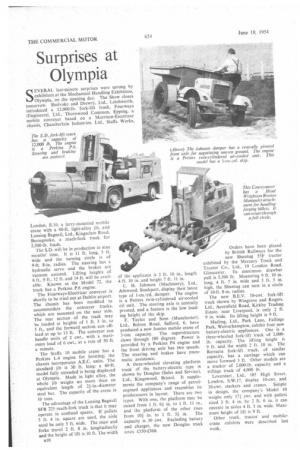 Page 44, 18th June 1954 —
Surprises at Olympia
Close
SEVERAL last-minute surprises were sprung by exhibitors at the Mechanical Handling Exhibition, . Olympia, on the opening day. The Show closes tomorrow. She'yoke and Drewry, Ltd., Letchworth, introduced a 12,000-1b. . fork-lift truck, Fourways (Engineers)", Ltd., Thornwood Common, Epping, a mobile conveyer based on a Morrison-Electricar chassis, Chamberlain Industries, Ltd., Staffa Works,
London, E.10, a lorry-mounted mobile crane with a 60-ft. light-alloy jib. and Lansing Bagnall, Ltd., Kingselere Road, Basingstoke, a reach-fork truck for 2,500-1b. loads.
The S.D. will be in production in nine months' time. It is 11 ft. long, 5 ft. wide and the turning circle is of 9-ft. 8-in. radius. The steering has a hydraulic servo and the brakes are vacuum assisted. Lifting heights of 6 ft., 9 ft., 12 ft. and 14 ft. will be available. Known as the Model 72, the truck has a Perkins P.6 engine.
The Fourways-Eleetricar conveyer is shortly to be tried out at Dublin airport. The chassis has been modified to accommodate the conveyer tracks, which are mounted on the near side. The rear section of the track may be loaded at heights of 1 ft. 3 in. to 5 ft., and the forward, section can offload at up to 13 ft. The conveyer can handle units of 2 cwt., with a maximum load of 6 cwt., it a rate of 50 ft. a minute.
The Staffa 10 mobile crane has a Perkins L.4 engine for hoisting; the chassis incorporates A.E.C. units. The standard jib is 30 ft. long: a 60-ft. model fully extended is being displayed at Olympia. Made in light alloy, the whole jib weighs no more than an equivalent length of 2f-in.-diameter steel bar. The capacity of the crane is 10 tons.
The advantage of the Lansing Bagnall SFR 225 reach-fork truck is that it may operate in confined spaces. If pallets 3 ft. 4 in. square are used, the aisle need be only 5 ft. wide. The mast and forks travel 2 ft, 8 in. longitudinally and the height of lift is 10 ft. The width al 0 of the appliance is 2 ft. 10 in., length 4 ft. 10 in. and height 7 ft. 11 in.
C. H. Johnson (Machinery), Ltd., Adswood, Stockport, display their latest type of 1-cu.-yd., dumper. The engine is a Petters twin-cylindered air-cooled oil unit, The steering axle is centrally pivoted, and a feature is the low loading height of the skip.
F. Taylor and Sons (Manchester), Ltd., Bolton Road, Salford, 6, have produced a new Jumbo mobile crane of 3-ton capacity. The superstructure stews through 180 degrees. Power is provided by a Perkins P4 engine and the front driving axle has two speeds. The steering and brakes have pneumatic assistance.
A three-wheeled elevating platform truck of the battery-electric type is shown by Douglas (Sales and Service), Ltd., Kingswood, Bristol. It supplements the company's range of petrolengined appliances and resembles its predecessors in layout. There are two types. With one, the platform may be raised from 1 ft. 6f in. to 1 ft. 11 in., and the platform of the other rises from 10f in. to 1 ft. 3f in. The capacity is 30 cwt. Excluding battery and charger, the new Douglas truck Costs 0504360. Orders have been placed by British Railways for the new Shuntug 55F tractor exhibited by the Mercury Truck and Tractor Co., Ltd., 19 London Road, Gloucester. Its maximum drawbar pull is 5,500 lb. Measuring 9 ft. 10 in. long, 4 ft. 7 in. wide and 5 ft. 5 in. high, the Shuntug can turn in a circle of 10-ft. 8-in. radius.
The new B.E.V. 10-cwt. fork-lift truck shown by Wingrove and Rogers. Ltd., Acornfield Road, Kirkby Trading Estate, near Liverpool, is only 2 ft. 9 in. wide. Its lifting height is 9 ft.
Matling, Ltd., Park Lane, Fallings Park, Wolverhampton, exhibit four new battery-electric appliances. One is a three-wheeled fork-lift truck of 2,000lb. capacity_ The lifting height is 9 ft. and, the width 2 ft. 10 in. The Retracta fork-lift truck, of similar capacity, has a carriage which can move forward 3 ft. Other models are a stacker of 2.000-1b. capacity and a stillage truck of 4,000 lb.
Leverstart , Ltd., 185 High Street. London, S.W.17, display 10-cwt. and 30-cwt. stackers and cranes. Simple in design, the company's Model 10 weighs only 171 cwt. and with pallets sized 3 ft. 4 in. by 2 ft. 6 in. it can operate in aisles 4 ft. 3 in. wide. Maximum height of lift is 9 ft.
Other truck, tractor and mobilecrane exhibits were described last week.