Perishable Goods: Carriers' Duties
18th June 1954
Page 35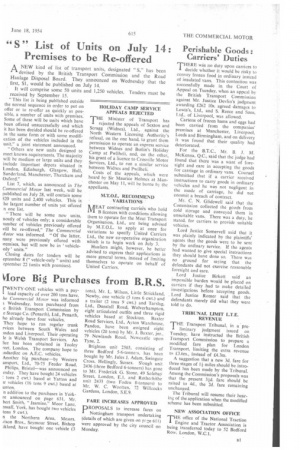 Page 35, 18th June 1954 —
Perishable Goods: Carriers' Duties
Close
THERE was no duty upon carriers to decide whether it would be risky to convey frozen food in ordinary instead a insulated vans. This contention was successfully made in the Court of Appeal on Tuesday, when an appeal by the British Transport Commission against Mr. Justice Devlin's judgment awarding £262 10s. agreed damages to Lewis's, Ltd., and S. Reece and Sons, Ltd., of Liverpool, was allowed.
Cartons of frozen hams and eggs had been carried from the companies' premises at Manchester, Liverpool, Leeds and Birmingham, and on delivery it was found that their quality had deteriorated.• For the B.T.C., Mr. B. J. M. McKenna, Q.C., said that the judge had found that there was a want of foresight and care in accepting the goods for carriage in ordinary vans. Counsel submitted that if a carrier received instructions to carry goods in ordinary vehicles and he was not negligent in the mode of carriage, he did not commit a breach of contract.
Mr. C. N. Glidewell said that the Commission collected the goods from cold storage and conveyed them in unsuitable vans. There was a duty, he stated, for carriers to provide suitable vehicles.
Lord Justice Somervell said that it was plainly indicated by the plaintiffs' agents that the goods were to be sent by the ordinary service, if the agents had wanted to give special instructions they should have done so. There was no ground for saying that the defendants did not exercise reasonable foresight and care.
Lord Justice Birkett said an impossible burden would be placed on carriers if they had to make detailed investigations before 'accepting goods. . Lord Justice Romer said that the defendants merely did what they were told to do.
TRIBUNAL LIMIT L.T.E. REVENUE
THE Transport Tribunal, in a pre
• liminary judgment issued on Tuesday, have instructed the British Transport Commission to prepare a modified fare plan for London Transport, limiting the extra revenue to £3.6m., instead of £4.3m.
A suggestion that a new 3d. fare for three stages of I miles should be introduced has been made by the Tribunal. Among the Commission's proposals was that the present 3/4. fare should be raised to 4d., the 2d. fare remaining unchanged.
The Tribunal will resume their hearing of the application when the modified scheme has been submitted.
NEW ASSOCIATION OFFICE THE office of the National Traction • Engine and Tractor Association is
being transferred today to 52 Bedford Row. London, W.C.1.