B.R.F. Stimulates Government
18th June 1954
Page 34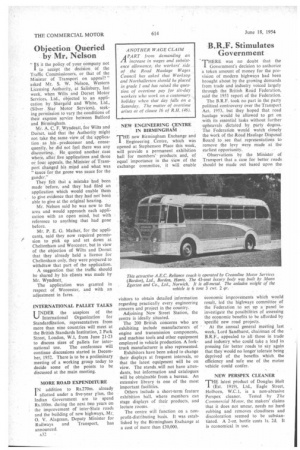 Page 34, 18th June 1954 —
B.R.F. Stimulates Government
Close
' THERE was no doubt that the Government's decision to authorize a token amount of money for the provision of modern highways had been brought about by the growing demands from trade and industry voiced largely through the British Road Federation, said the 1953 report of the Federation. The B.R.F. took no part in the party political controversy over the Transport Act, 1953, but they hoped that road haulage would be allowed to get on with its essential tasks without further upheavals dictated by party dogma. The Federation would watch closely the work of the Road Haulage Disposal Board to see that representations th remove the levy were made at the earliest opportunity.
Observations by the Minister of Transport that a case for better .roads should be made out based upon the economic improvements which would result, led the highways committee of the Federation to set up a panel to investigate the possibilities of assessing the economic benefits to be afforded by specifiC new road projects.
At the annual general meeting last week, Lord Sandhurst, chairman of the B.R.F., appealed to all those in trade and industry. who could take a lead in pressing for better roads to say again that they would no longer tolerate being deprived of the benefits which the efficiency and safe use of the motor vehicle could confer.
NEW PERSPEX CLEANER
THE latest product of Douglas Holt (Est. 1919), Ltd., Eagle Street, Holborn, W.C.1, is a non-abrasive Perspex cleaner. Tested by The Commercial Motor, the makers' claims that it does not smear, needs no hard rubbing and removes cloudiness and discoloration seemed to be substantiated. A 2-oz. bottle costs Is. 2d. It is economical in use.