Men in the News
18th June 1954
Page 32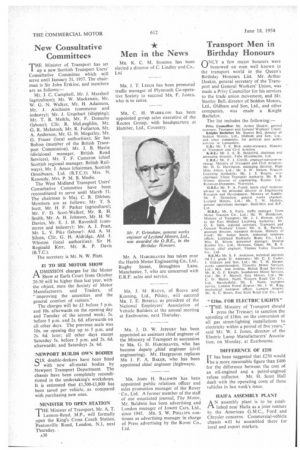 Page 32, 18th June 1954 —
Men in the News
Close
MR. K. C. M. SYMONS has been elected a director of C. Lindley and Co., Ltd MR. J. T. LEECH has been promoted traffic manager of Plymouth Co-operative Society to succeed MR. F. JAMES, who is to retire.
MR. C. H. WARR1LOW has been appointed group sales executive of the Rootes Group, with headquarters at Humber, Ltd., Coventry.
Mr. A. HARGREAVES has taken over the Harith Motor Engineering Co., Ltd., Rugby Street, Broughton Lane, Manchester, 7, who are concerned with E.R.F. sales and service.
MR. J. M. REEVE, of Reeve and Kenning, Ltd., Pilsley, will succeed MR. J. E. BISSELL as president of the National Employers' Association of Vehicle Builders at the annual meeting at Eastbourne, next Thursday.
MR. J. D. W. JEFFERY has been appointed an assistant chief engineer of the Ministry of Transport in succession to MR. G. H. HARGREAVES, who has become deputy phief engineer (civil engineering). Mr. Hargreaves replaces MR 1. F. A. BAKER, who has been appointed chief engineer (highways).
MR. JOHN H. BALDWIN has been appointed public relations officer and sales promotion manager of the Rover Co., Ltd. A former member of the staff of our associated journal, The Motor, Mr. Baldwin has been advertising and London manager of Jowett Cars, Ltd., since 1945. MR. S. W. PHILLIPS continues as advertising manager in charge of Press advertising by the Rover Co., Ltd.