Still More Fare Increases Foreshadowed
18th June 1954
Page 31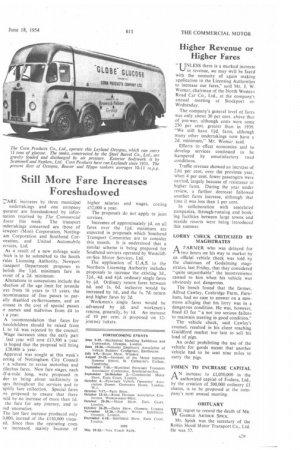 Page 31, 18th June 1954 —
Still More Fare Increases Foreshadowed
Close
_TARE increases by three municipal undertakings and one company operator are foreshadowed by infornation received by The Commercial 4otor this week. The transport mdertakings concerned are those of .lewport (Mon) Corporation, Nottingam Corporation and Southend Cotoration, and United Automobile ervices, Ltd.
As a result of a new mileage scale Phich is to be submitted to the South Vales Licensing Authority, Newport 'ransport Department proposes to bolish the lid. minimum fare in ivour of a 2d. minimum.
Alterations in concessions include the !duction of the age limit for juvenile tres from 16 years to 15 years, the iscontinuance of free passes to parally disabled ex-Servicemen, and an crease in the cost of special passes or nurses and midwives from £4 to a year.
A recommendation that fares for hoolchildren should be raised from I. to Id. was rejected by the council. Wage increases since the early part ' last year will cost £13,500 a y ear. is hoped that the proposal will bring £28,000 a year.
Approval was sought at this week's eeting of Nottingham City Council r a scheme to revise motorbus and )1Ieybus fares. New fare stages, each If-a-mile long, were proposed in der to bring about uniformity in tges throughout the services and to nplify fare collection. Special fares !re proposed to ensure that there ntld be no increase of more than Id. the fare for any journey, and to oid anomalies.
The last fare increase produced only D,000, instead of the £110,000 visuaed. Since then the operating costs ve increased, Mainly because of higher salaries and wages, costing £52.000 a year.
The proposals do not apply to joint services.
Increases of approximately id. on all fares over the lid. minimum are expected in proposals which Southend Transport Committee are to consider this month. It is understood that a similar scheme is being prepared for Southend services operated by Westcliffon-Sea Motor Services, Ltd.
The application of U.A.S. to the Northern Licensing Authority includes proposals to increase the existing 3d., 3id., 4d. and 4id. ordinary single fares by id. Ordinary return fares between 6d. and Is. 6d. inclusive would be increased by Id., and the Is. 7d, return and higher _fares by 2d.
Workmen's single fares would be advanced by id. and workmen's returns, generally, by id. An increase of 10 per cent, is proposed on 12journey tickets.