Higher Revenue or Higher Fares
18th June 1954
Page 31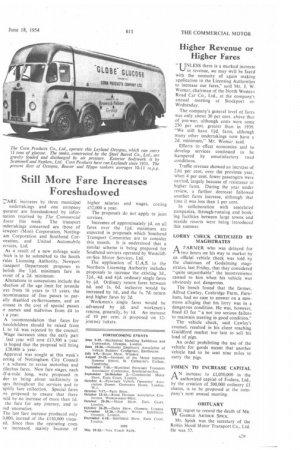 Page 31, 18th June 1954 —
Higher Revenue or Higher Fares
Close
" 1 INLESS there is a marked increase
1.--1 in revenue, we may well be faced with the necessity of again making application to the Licensing Authorities to increase our fares," said Mr. J. W. Womar, chairman of the North Western Road Car Co., Ltd., at the company's annual meeting at Stockport on Wednesday.
The company's general level of fares was only about 30 per cent, above that of pre-war, although costs were some 250 per cent. greater than in 1939. "We still have lit fares, although many other undertakings now have a 2d. minimum," Mr. Womar said.
Efforts to effect economies and to develop services continued to be hampered by unsatisfactory road conditions.
Traffic revenue showed an increase of 2.61 per cent, over the previous year, when 4 per cent. fewer passengers were carried, largely because of resistance to higher fares. During the year under review, a further decrease followed another fares increase, although that time it was less than 1 per cent.
In collaboration with associated companies, through-running and booking facilities between large towns and seaside resorts were being introduced this summer.
LORRY CHECK CRITICIZED BY MAGISTRATES
AFARMER who was delayed for two hours on his way to market by an official vehicle check was told by the chairman of Godalming magistrates, last Friday, that they considered "quite unjustifiable" the inconvenience caused to him when his vehicle was obviously not dangerous.
The bench found that the farmer, Alfred Cawley, Cosbridge Farm, Farnham, had no case to answer on a summons alleging that his lorry was in a dangerous condition. He was, however, fined £3 for "a not too serious failure to maintain steering in good condition."
The vehicle check, said Cawley's counsel, resulted in his client reaching Guildford market too late to sell his load of pigs.
An order prohibiting the use of the vehicle for goods meant that another vehicle had to be sent nine miles to carry the pigs.
FODEN TO INCREASE CAPITAL
AN increase to £1,050,000 in the authorized capital of Fodens, Ltd., by the creation of 500,000 ordinary fl shares, is to be proposed at the company's next annual meeting.
OBITUARY 11"/E regret to record the death of MR. VY GEORGE ARTHUR SPICK.
Mr. Spick was the secretary of the Robin Hood Motor Transport Co., Ltd. He was 57.