Passing Comments
18th June 1954
Page 28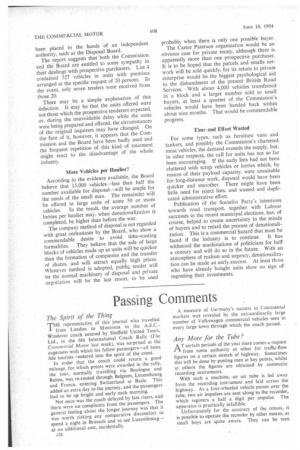 Page 29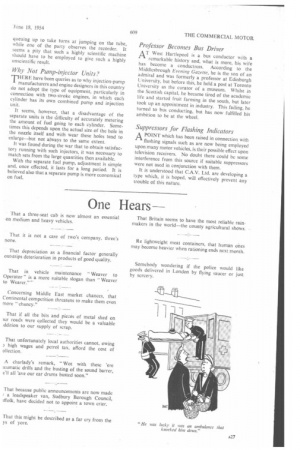 Page 28, 18th June 1954 —
Passing Comments
Close
The Spirit of the Thing
'THE representative of this journal who travelled I from London to Montreux in the A.E.C.Windover coach entered by Sheffield United Tours, Ltd., in the 6th International Coach Rally (Tie Commercial Motor last week), was surprised at the eagerness with which his fellow passengers—all bona fide tourists—entered into the spirit of the event.
hi order that the coach could return a good mileage, for which points were awarded in the rally, the tour, normally travelling via Boulogne and Reims, was re-routed through Belgium, Luxembourg and France. entering Switzerland at Basle. This added an extra day to the journey, and the passengers had to be up bright and early each morning.
Not once was the coach delayed by late risers, and there were no complaints from the passengers. The general feeling about the longer journey was that it was worth risking any comparative discomfort to spend a night in Brussels and to see Luxembourg— at no additional cost, incidentally.
n26 • A measure of Germany's success in Continental markets was revealed by the extraordinarily large number of Volkswagen commercial vehicles seen in every large town through which the coach passed.
Any More for the Tube?
AT certain periods of the year there comes a request from some authority or other for traffic-flow figures on a certain stretch of highway. Sometimes this will be done by posting men at key points, whilst at others the figures are obtained by automatic recording instruments.
With such a machine, an air tube is led away from the recording instrument and laid across the highway. As a four-wheeled vehicle passes over the tube, two air impulses are sent along to the recorder, which registers a half a digit per impulse. The apparatus is practically infallible.
Unfortunately for the accuracy of the census, it is possible to operate the recorder by other means, as small boys are quite aware. They can be seen queuing up to take turns at jumping on the tube, while one of the party observes the recorder. It seems a pity that such a highly scientific machine should have to be employed to give such a highly unscientific result.
Why Not Pump-injector Units?
THERE have been queries as to why injection-pump manufacturers and engine designers in this country do not adopt the type of equipment, particularly in connection with two-stroke engines, in which each cylinder has its own combined pump and injection unit.
It seems, however, that a disadvantage of the separate units is the difficulty of accurately metering the amount of fuel going to each cylinder. Sometimes this depends upon the actual size of the hole in the nozzle itself and with wear these holes tend to enlarge—but not always to the same extent.
It was found during the war that to obtain satisfactory running with such injectors, it was necessary to match sets from the large quantities then available.
With the separate fuel pump, adjustment is simple and, once effected, it lasts for a long period. It is believed also that a separate pump is more economical on fuel.
Professor Becomes Bus Driver
AT West Hartlepool is a bus conductor with a remarkable history and, what is more, his wife has become a conductress. According to the Middlesbrough Evening Gazette, he is the son of an admiral and was formerly a professor at Edinburgh University, but before this, he held a post at Toronto University as the curator of a museum. Whilst in the Scottish capital, he became tired of the academic life and started fruit farming in the south, but later took up an appointment in industry. This failing, he turned to bus conducting, but has now fulfilled his ambition to be at the wheel.
Suppressors for Flashing Indicators
A POINT which has been raised in connection with " flashing signals such as are now being employed upon many motor vehicle, is their possible effect upon television receivers. No doubt there could be some interference from this source if suitable suppressors were not used in conjunction with them.
It is understood that C.A.V. Ltd. are developing a type which, it is hoped, will effectively prevent any trouble of this nature.