Invitation to the House
18th January 1996
Page 9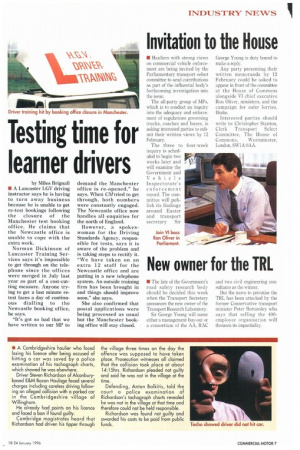 Page 9, 18th January 1996 —
Invitation to the House
Close
• Hauliers with strong views on commercial vehicle enforcement are being invited by the Parliamentary transport select committee to send contributions as part of the influential body's forthcoming investigation into the issue.
The all-party group of MPs, which is to conduct an inquiry into the adequacy and enforcement of regulations governing trucks, coaches and buses, is asking interested parties to submit their written views by 12 February.
The three to four-week inquiry is scheduled to begin two weeks later and will examine the Government and Vehicle Inspectorate's enforcement record. The committee will publish its findings around Easter and transport secretary Sir
George Young is duty bound to make a reply.
Any party presenting their written memoranda by 12 February could be asked to appear in front of the committee at the House of Commons alongside VI chief executive Ron Oliver, ministers, and the campaign for safer lorries, Brake.
Interested parties should write to: Christopher Stanton, Clerk Transport Select Committee, The House of Commons, Westminster, London, SW 1A OAA.