Drivers face DNA murder test
18th January 1996
Page 6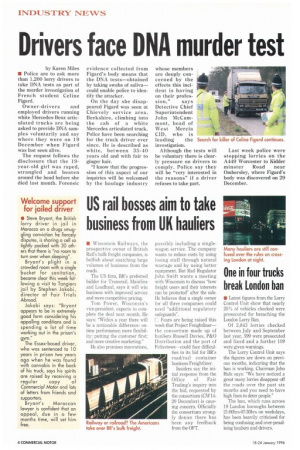 Page 6, 18th January 1996 —
Drivers face DNA murder test
Close
by Karen Miles • Police are to ask more than 1,200 lorry drivers to take DNA tests as part of the murder investigation of French student Celine Figard.
Owner-drivers and employed drivers running white Mercedes-Benz articulated trucks are being asked to provide DNA samples voluntarily and say where they were on 19 December when Figard was last seen alive.
The request follows the disclosure that the 19year-old girl was raped, strangled and beaten around the head before she died last month. Forensic evidence collected from Figard's body means that the DNA tests—obtained by taking swabs of saliva— could enable police to identify the attacker.
On the day she disappeared Figard was seen at Chievely service area, Berkshire, climbing into the cab of a white Mercedes articulated truck. Police have been searching for the truck driver ever since. He is described as white, between 35-40 years old and with fair to ginger hair.
"1 know that the progression of this aspect of our inquiries will be welcomed by the haulage industry whose members are deeply concerned by the effects this incident is having on their profes sion," says Detective Chief Superintendent John McCammont, head of West Mercia CID, who is leading the investigation.
Although the tests will be voluntary there is clearly pressure on drivers to comply. Police say they will be "very interested in the reasons" if a driver refuses to take part. Last week police were stopping lorries on the A449 Worcester to Kidder minster Road near Ombersley, where Figard's body was discovered on 29 December.