The EU and DOT at ' odds over limiters
18th January 1996
Page 5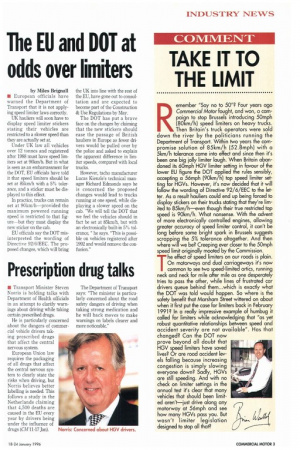 Page 5, 18th January 1996 —
The EU and DOT at ' odds over limiters
Close
by Miles Brig:nal! II European officials have warned the Department of Transport that it is not applying speed limiter laws correctly.
UK hauliers will soon have to display speed limiter stickers stating their vehicles are restricted to a slower speed than they are actually set at.
Under UK law all vehicles over 12 tonnes and registered after 1988 must have speed limiters set at 90km/h. But in what is seen as an embarrassment for the DOT, EU officials have told it that speed limiters should be set at 85km/h with a 5% tolerance, and a sticker must be displayed to this effect.
In practice, trucks can remain set at 90km/h—provided the maximum powered running speed is restricted to that figure—but they must display the new sticker on the cab.
EU officials say the DOT misinterpreted the wording of Directive 92/6/EEC, The proposed changes, which will bring
the UK into line with the rest of the EU, have gone out to consultation and are expected to become part of the Construction & Use Regulations by May.
The DOT has put a brave face on the changes by claiming that the new stickers should ease the passage of British hauliers in Europe as fewer drivers would be pulled over by the police and asked to explain the apparent difference in limiter speeds, compared with local trucks.
However, tacho manufacturer Lucas Kienzle's technical manager Richard Edmonds says he is concerned the proposed changes would lead to trucks running at one speed, while displaying a slower speed on the cab. "We will tell the DOT that we feel the vehicles should in fact be set at 85km/h, but with an electronically built-in 5% tolerance, " he says. "This is possible on vehicles registered after 1992 and would remove the confusion."