'A professional industry needs the best equipment'
18th January 1996
Page 42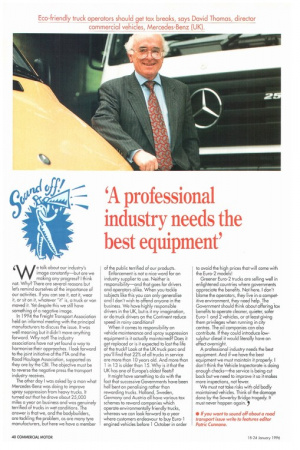 Page 42, 18th January 1996 —
'A professional industry needs the best equipment'
Close
Ce talk about our industry's
image constantly—but are we making any progress? I think not. Why? There are several reasons but let's remind ourselves of the importance of our activities. If you can see it, eat it, wear it, or sit on it, whatever "it" is, a truck or van moved it. Yet despite this we still have something of a negative image. In 1994 the Freight Transport Association held an informal meeting with the principal manufacturers to discuss the issue. It was well meaning but it didn't move anything Forward. Why not? The industry associations have not yet found a way to harmonise their approaches. I look Forward to the joint initiative of the FTA and the Road Haulage Association, supported as they are by the CBI. The objective must be to reverse the negative press the transport industry receives.
The other day I was asked by a man what Mercedes-Benz was doing to improve spray suppression from heavy trucks. It turned out that he drove about 25,000 miles a year on business and was genuinely terrified of trucks in wet conditions. The answer is that we, and the bodybuilders, are tackling the 'problem, as are many tyre manufacturers, but here we have a member
of the public terrified of our products. Enforcement is not a nice word for an industry supplier to use. Neither is responsibility—and that goes for drivers and operators alike. When you tackle subjects like this you can only generalise and I don't wish to offend anyone in the business. We have highly responsible drivers in the UK, but is it my imagination, or do truck drivers on the Continent reduce speed in rainy conditions? When it comes to responsibility on vehicle maintenance and spray suppression equipment is it actually maintained? Does it get replaced or is it expected to last the life of the truck? Look at the UK truck parc and you'll Find that 22% of all trucks in service are more than 10 years old. And more than 1 in 13 is older than 15. Why is it that the UK has one of Europe's oldest fleets? It might have something to do with the fact that successive Governments have been hell bent on penalising rather than rewarding trucks. Holland, Sweden, Germany and Austria all have various tax schemes to reward companies which operate environmentally friendly trucks, whereas we can look forward to a year where customers endeavour to buy Euro-1 engined vehicles before 1 October in order to avoid the high prices that will come with the Euro-2 models!
Greener Euro-2 trucks are selling well in enlightened countries where governments appreciate the benefits. Not here. I don't blame the operators, they live in a competitive environment, they need help. The _ Government should think about offering tax benefits to operate cleaner, quieter, safer Euro-1 and 2 vehicles, or at least giving them privileges when running in city centres. The oil companies can also contribute. IF they could introduce lowsulphur diesel it would literally have an effect overnight. A professional industry needs the best equipment. And if we have the best equipment we must maintain it properly. I don't think the Vehicle Inspectorate is doing enough checks—the service is being cut back but we need to improve it so it makes more inspections, not fewer. We must not take risks with old badly maintained vehicles. Think of the damage done by the Sowerlay Bridge tragedy. It must never happen again.