_ - r _g i rJr0vPrl firofit - Colp 1: 1 06sP cracIer viith
18th January 1996
Page 41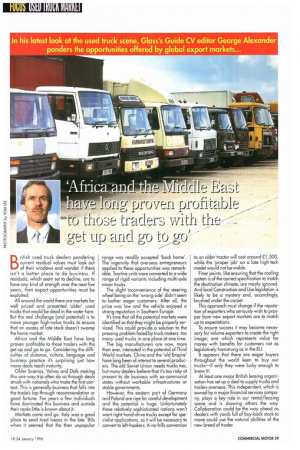 Page 41, 18th January 1996 —
_ - r _g i rJr0vPrl firofit - Colp 1: 1 06sP cracIer viith
Close
rne
Bused truck dealers pondering current residual values must look out of their windows and wonder if there isn't a better place to do business. If residuals, which seem set to decline, are to have any kind of strength over the next five years, then export opportunities must be exploited.
All around the world there are markets for well priced and presented 'older' used trucks that would be dead in the water here. But the real challenge (and potential) is to move younger high-value trucks to ensure that an excess of late stock doesn't swamp the home market.
Africa and the Middle East have long proven profitable to those traders with the get up and go to go. Considering the difficulties of distance, culture, language and business practice it's surprising just how many deals reach maturity. Older Scanias, Volvos and Dafs making this one-way trip often do so through deals struck with nationals who make the first contact. This is generally business that falls into the trade's lap through recommendation or good fortune. For years a Few individuals have dominated this business and outside their ranks little is known about it.
Markets come and go. Italy was a good place to send tired Ivecos in the late '80s when it seemed that the then unpopular
range was readily accepted 'back home'. The ingenuity that overseas entrepreneurs applied to these opportunities was remarkable. Tractive units were converted to a wide range of rigid variants including multi-axle mixer trucks.
The slight inconvenience of the steering wheel being on the 'wrong side' didn't seem to bother eager customers. After all, the price was low and the vehicle enjoyed a strong reputation in Southern Europe.
It's time that all the potential markets were identified so that they might be properly serviced. This could provide a solution to the pressing problem faced by truck makers: too many used trucks in one place at one time.
The big manufacturers are now, more than ever, interested in the potential of Third World markets. China and the 'old Empire' have long been of interest to several producers. The old Soviet Union needs trucks too, but many dealers believe that it's too risky at present to do business with ex-communist states without workable infrastructures or stable governments. However, the eastern part of Germany and Poland are ripe for careful development and the potential is huge. Unfortunately these relatively sophisticated nations won't want right-hand-drive trucks except for specialist applications, so it will be necessary to convert to left-hookers. A no-frills conversion to an older tractor will cost around £1,500, while the 'proper job' on a late high-tech model would not be viable.
Finer points, like ensuring that the cooling system is of the correct specification to match the destination climate, are mostly ignored. And local Construction and Use legislation is likely to be a mystery and, accordingly, brushed under the carpet. This approach must change if the reputation of exporters who seriously wish to prosper from new export markets are to match up to expectations. To ensure success it may become necessary for volume exporters to create the right image; one which represents value for money with benefits for customers not as legislatively hamstrung as in the EU. It appears that there are eager buyers throughout the world keen to buy our trucks—if only they were lucky enough to know it!
At least one major British leasing organisation has set up a deal to supply trucks and trailers overseas. This independent, which is owned by a major financial services company, plays a key role in our rental/leasing scene and is showing others the way. Collaboration could be the way ahead as dealers with yards full of buy-back stock to move could use the natural abilities of the new breed of trader,