Helping hands
18th January 1996
Page 36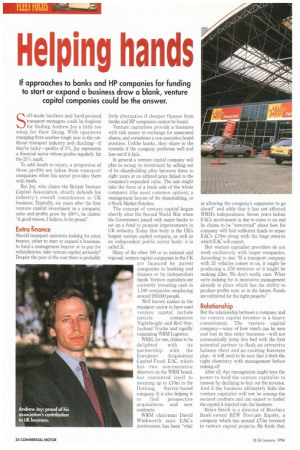 Page 37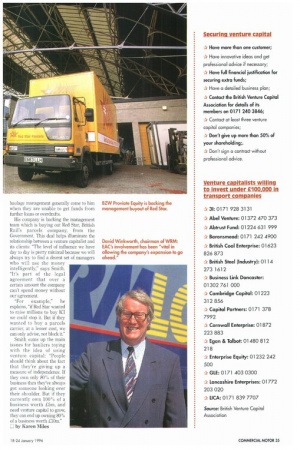 Page 36, 18th January 1996 —
Helping hands
Close
Self-made hauliers and hard-pressed transport managers could be forgiven for finding Andrew Joy a little too smug for their liking. With operators emerging from another tough year in the cutthroat transport industry and clutching if they're lucky—profits of 5%, Joy represents a financial sector whose profits regularly hit the 25% mark.
To add insult to injury, a proportion of those profits are taken from transport companies when his sector provides them with funds.
But Joy. who chairs the British Venture Capital Association, stoutly defends his industry's overall contribution to UK business. Typically, six years after the first venture capital investment in a company, sales and profits grow by 450%, he claims: "A good reason, I believe, to be proud."
Should transport operators looking for extra finance, either to start or expand a business, to fund a management buyout or to pay for redundancies, take venture capital seriously? Despite the pain of the cost there is probably little alternative if cheaper finance from banks and HE companies cannot be found.
Venture capitalists provide a business with risk money in exchange for unsecured shares, and sometimes a non-executive board position. Unlike banks, they share in the rewards if the company performs well and lose out if it fails.
In general a venture capital company will plan to recoup its investment by selling out of its shareholding after between three to eight years at an inflated price linked to the company's expanded value. The sale might take the form of a trade sale of the whole company (the most common option); a management buyout of the shareholding, or a Stock Market flotation.
The concept of venture capital began shortly after the Second World War when the Government joined with major banks to set up a fund to promote improvements in UK industry Today that body is the UK's largest venture capital company, as well as an independent public sector body: it is called 3i.
Many of the other 100 or so national and regional venture capital companies in the UK are financed by parent companies in banking and finance or by independent funds. Venture capitalists are currently investing cash in 1,100 companies employing around 200,000 people.
Well known names in the transport sector to have used venture capital include parcels companies Nightfreight and Red Star, Leyland Trucks and rapidly expanding WRM Logistics.
WRM, for one, claims to be delighted with its partnership with the European Acquisition Capital Fund. EAC, which has two non-executive directors on the WRM board, has committed itself to investing up to flOm in the Dorking, Surrey-based company. It is also helping it to find prospective acquisitions and new contracts.
WRM chairman David Winkworth says EAC's involvement has been "vital in allowing the company's expansion to go ahead" and adds that it has not affected WRM's independence. Seven years before EAC's involvement is due to come to an end he claims to be "unworried" about how his company will find sufficient funds to repay EAC's £10m along with the huge returns which EAC will expect.
But venture capitalist providers do not work exclusively with larger companies. According to one: "If a transport company with 25 vehicles comes to us, it might be producing a £50 turnover or it might be making £2m. We don't really care. What we're looking for is innovative management already in place which has the ability to produce profits now, or in the future. Funds are unlimited for the right projects."
But the relationship between a company and its venture capital investor is a heavy commitment. The venture capital company—wary of how much can be won and lost in this risky business—will not automatically jump into bed with the first potential partner to flash an attractive balance sheet and an exciting business plan—it will need to be sure that it feels the right chemistry with management before risking all
After all, that management might have the power to hold the venture capitalist to ransom by declining to buy out the investor. And if the business ultimately fails the venture capitalist will not be among the secured creditors and can expect to forfeit the capital it injected into the business, Brian Smith is a director of Barclays Bank-owned BZW Proviate Equity, a company which has around 1275m invested in venture capital projects. He finds that haulage management generally come to him when they are unable to get funds from further loans or overdrafts.
His company is backing the management team which is buying out Red Star, British Rail's parcels company, from the Government. This deal helps illuminate the relationship between a venture capitalist and its clients: "The level of influence we have day to day is pretty minimal because we will always try to find a decent set of managers who will use the money intelligently," says Smith. "It's part of the legal agreement that over a certain amount the company can't spend money without our agreement.
"For example," he explains, "if Red Star wanted to raise millions to buy ICI we could stop it. But if they wanted to buy a parcels carrier, at a lesser cost, we can only advise, not block it."
Smith sums up the main issues for hauliers toying with the idea of using venture capital: "People should think about the fact that they're giving up a measure of independence. If they own only 80% of their business then they've always got someone looking over their shoulder. But if they currently own 100% of a business worth ,C5m, and need venture capital to grow, they can end up owning 80% of a business worth flOm." Li by Karen Miles