Smooth savings
18th January 1996
Page 34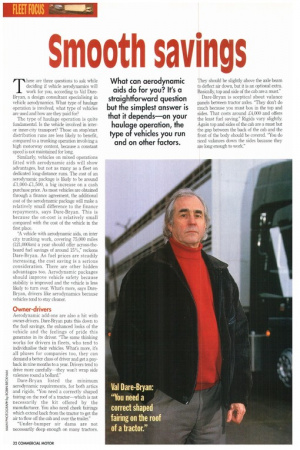 Page 35
Page 34, 18th January 1996 —
Smooth savings
Close
There are three questions to ask while deciding if vehicle aerodynamics will work for you, according to Val DareBryan, a design consultant specialising in vehicle aerodynamics. What type of haulage operation is involved, what type of vehicles are used and how are they paid for?
The type of haulage operation is quite fundamental. Is the vehicle involved in interor inner-city transport? Those on stop/start distribution runs are less likely to benefit, compared to a tunking operation involving a high motorway content, because a constant speed is not maintained for long.
Similarly, vehicles on mixed operations fitted with aerodynamic aids will show advantages, but not as many as a fleet on dedicated long-distance runs. The cost of an aerodynamic package is likely to be around £1,000-£1,500, a big increase on a cash purchase price. As most vehicles are obtained through a finance agreement, the additional cost of the aerodynamic package will make a relatively small difference to the finance repayments, says Dare-Bryan. This is because the on-cost is relatively small compared with the cost of the vehicle in the first place.
"A vehicle with aerodynamic aids, on inter City trunking work, covering 75,000 miles (121,000km) a year should offer across-theboard fuel savings of around 15%," reckons Dare-Bryan. As fuel prices are steadily increasing, the cost saving is a serious consideration. There are other hidden advantages too. Aerodynamic packages should improve vehicle safety because stability is improved and the vehicle is less likely to turn over. What's more, says DareBryan, drivers like aerodynamics because vehicles tend to stay cleaner.
Aerodynamic add-ons are also a hit with owner-drivers. Dare-Bryan puts this down to the fuel savings, the enhanced looks of the vehicle and the feelings of pride this generates in its driver. ''The same thinking works for drivers in fleets, who tend to individualise their vehicles. What's more, it all pluses for companies too, they can demand a better class of driver and get a payback in nine months to a year. Drivers tend to drive more carefully—they won't wrap side valences round a bollard."
Dare-Bryan listed the minimum aerodynamic requirements, for both artics and rigids. You need a correctly shaped fairing on the roof of a tractor—which is not necessarily the kit offered by the manufacturer. You also need cheek fairings which extend back from the tractor to get the air to flow off the cab and over the trailer."
"Under-bumper air dams are not necessarily deep enough on many tractors. They should be slightly above the axle beam to deflect air down, but it is an optional extra. Basically, top and side of the cab are a must."
Dare-Bryan is sceptical about valance Panels between tractor axles. "They don't do much because you must box in the top and sides. That costs around £4,000 and offers the least fuel saving." Rigids vary slightly. Again top and sides of the cab are a must but the gap between the back of the cab and the front of the body should be covered. "You do need valances down the sides because they are long enough to work." About 80% of the fuel saving comes from the tractor and 20% from the trailer. DareBryan recommends side valances for trailers, with radiused front bulkhead corners or a "nose" panel. A rear roof slope is also worth considering, "It only costs around £160 to build it in. You can also fit a transverse moulding to the top—the large radius deflects air down the trailer and they are cheap mouldings." The greatest advantages can be expected from vehicles with box and curtain-sided trailers or bodies. Flatbed trailers offer more uncertain results because of the variable height and shape of the load.
Finally Dare-Bryan reckons it is much easier to use a fuel bonus as an incentive for drivers if an aerodynamic package is fitted. Without the aids, it is more difficult to set good targets. As he says, the engine spends 60% of its energy pushing air out of the way. "If you can reduce drag by between 40% and 50% on a truck, it is a worthwhile achievement." Dare-Bryan's work includes involvement in Department of Transport energy-saving projects and a great deal of design input on the ERF EC and Olympic cab.
Ray Steele Haulage's Barrow-in-Furnessbased fleet uses many 4.7in-high trailers for hauling tissue paper. Few run at maximum weight, but those high-volume trailers are not good for the fleet's fuel figures.
The company first specified aerodynamics four years ago on its Mercedes 1729 tractor units and its latest Seddon Atkinson Strato 325s are also equipped with roof-top and side deflectors. It cost a fortune in the first place, but paid for itself," general manager Reg Leeder says: "Fuel consumption went down from around 6.5mpg to 7.25mpg on the Mercs straight away; the Seddon Atkinsons are doing around 9.5mpg-plus. Over four years, we've saved a fair bit on fuel," says Leeder.
Leeds-based haulier GW Sissons & Son's vehicles cover around 129,000km a year hauling soft drinks, DIY products and building materials on UK trunking runs, The company has been buying Seddon Atkinsons for the past six years, When Seddon Atkinson adopted the lighter Iveco cabs, managing director Bryan Sissons switched from Perkins' Eagle Tx engine at 325hp to Cummins' L10 at 325hp. As the vehicle was lighter overall, it meant that a full air management package could be fitted without affecting payload. The result has been a significant fuel saving but Sissons is not sure how much is due to the change of engine and how much to the aerodynamics. The average saying on some vehicles has been around one mile per gallon.
Most of the trailers are curtainsiders without side skirts but with air deflectors on the front bulkhead, Based on a price of around LL400 for a factory aerodynamic kit, Sissons reckons on a pay-back within 18 months.
Moving air cargo between the UK's major airports is the principal business of Sutherlands Air Cargo, formerly part of Transport Development Group When it was in TDG an aerodynamic study revealed that Sutherlands would benefit more than most from aerodynamic aids. Director Andy Cowie says: "Freight is a mix of everything, but payloads are usually light and we use box, stepframe and curtainsider trailers. Most of our vehicles are artics and there is a high motorway content."
Like Sissons, Sutherlands adoption of aerodynamic aids coincided with a switch of vehicles. In Sutherlands' case it was to ERF ECs—mostly EClOs with the 350 Cummins Celect engine. As Cowie says: "The danger is that the improvements are down to modern vehicles with more efficient engines."
All the Ees have standard sleeper cabs with top and side deflector kits. So far, Sutherlands has not used aerodynamic aids on its trailers but that might change.
While the benefits of aerodynamic aids are relatively easy to measure in fuel consumption terms, effects on re-sale values are harder to calculate. Used truck dealer Chris Hodge says rigids tend to suffer more damage than artics: "Air kits stick out so they can be damaged. This tends to amplify the condition of the vehicle and can have a negative effect if it looks as though the vehicle has not been well looked after."
In general, Hodge believes that artics are better cared for than rigids: "So a full air kit could make a difference, or it may make it easier to sell but not affect the price."
by John Kendall