SETTING STANDARD
18th January 1996
Page 25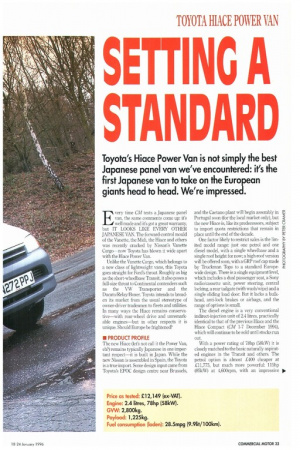 Page 26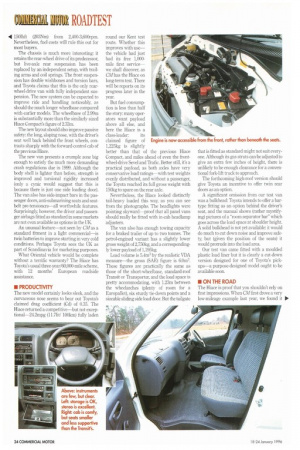 Page 28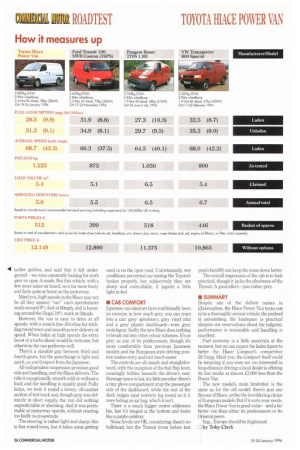 Page 25, 18th January 1996 —
SETTING STANDARD
Close
Fd very time CM tests a Japanese panel van, the same comments come up: it's
well made and it's got a great warranty, but IT LOOKS LIKE EVERY OTHER JAPANESE VAN. The forward-control mould of the Vanette, the Midi. the Hiace and others was recently cracked by Nissan's Vanette Cargo now Toyota has blown it wide apart with the Hiace Power Van.
Unlike the Vanette Cargo, which belongs to a new class of lightweight vans, this Toyota goes straight for Ford's throat. Roughly as big as the short-wheelbase Transit, it also poses a full-size threat to Continental contenders such as the VW Transporter and the DucatoiRelay/Boxer. Toyota intends to broaden its market from the usual stereotype of owner-driver tradesmen to fleets and utilities. In many ways the Hiace remains conservative—with rear-wheel drive and unremarkable engines—but in other respects it is unique. Should Europe be frightened?
The new Hiace (let's not call it the Power Van, eh?) remains typically Japanese in one important respect—it is built in Japan. While the new Nissan is assembled in Spain, the Toyota is a true import. Some design input came from Toyota's EPOC design centre near Brussels, and the Caetano plant will begin assembly in Portugal soon (for the local market only), but the new Hiace is, like its predecessors, subject to import quota restrictions that remain in place until the end of the decade.
One factor likely to restrict sales is the limited model range: just one petrol and one diesel model, with a single wheelbase and a single roof height for now; a high-roof version will be offered s(ion, with a GRP roof cap made by Truckman Tops to a standard Europewide design. There is a single equipment level, which includes a dual passenger seat, a Sony radio/cassette unit, power steering, central locking, a rear tailgate with wash/wipe) and a single sliding load door. But it lacks a bulkhead, anti-lock brakes or airbags, and the range of options is small.
The diesel engine is a very conventional indirect-injection unit of 2.4 litres, practically identical to that of the previous Hiace and the Hiace Compact (CM 1-7 December 1994), which will continue to be sold until stocks run out.
With a power rating of 78hp (58kW) it is closely matched to the basic naturally aspirated engines in the Transit and others. The petrol option is almost £400 cheaper at ,£11,775, but much more powerful: 115hp (85kW) at 4,600rpm, with an impressive 1501bft (203Nm) from 2,400-3,600rpm. Nevertheless, fuel costs will rule this out for most buyers.
The chassis is much more interesting: it retains the rear-wheel drive of its predecessor. but live-axle rear suspension has been replaced by an independent setup, with trailing arms and coil springs. The front suspension has double wishbones and torsion bars, and Toyota claims that this is the only rearwheel-drive van with fully independent suspension. The new system can be expected to improve ride and handling noticeably, as should the much longer wheelbase compared with earlier models. The wheelbase of 2.99m is substantially more than the similarly sized Hiace Compact's figure of 2.33m.
The new layout should also improve passive safety: the long, sloping nose, with the driver's seat well back behind the front wheels, contrasts sharply with the forward-control cab of the previous Hiace.
The new van presents a crumple zone big enough to satisfy the much more demanding crash regulations due in 1999. Although the body shell is lighter than before, strength is improved and torsional rigidity increased (only a cynic would suggest that this is because there is just one side loading door). The van also has side-impact bars in the passenger doors, anti-submarining seats and seatbelt pre-tensioners—all worthwhile features. Surprisingly, however, the driver and passenger airbags fitted as standard in some markets are not even available as options in the UK.
An unusual feature—not seen by CM as a standard fitment in a light commercial—is twin batteries to improve starting in very cold conditions. Perhaps Toyota sees the UK as part of Scandinavia for marketing purposes.
What Oriental vehicle would be complete without a terrific warranty? The Hiace has Toyota's usual three-year/60,000-mile scheme, with 12 months' European roadside assistance.
The new model certainly looks sleek, and the curvaceous nose seems to bear out Toyota's claimed drag coefficient (Cd) of 0.35. The Hiace returned a competitive—but not exceptional-242mpg (11.71W 100km) fully laden
round our Kent test route. Whether this improves with use— the vehicle had just had its free 1,000 mile first service— we shall discover, as CM has the Hiace on long-term test. There will be reports on its progress later in the year.
But fuel consumption is less than half the story: many operators want payload above all else, and here the Hiace is a class-leader: its claimed figure of 1,225kg is slightly better than that of the previous Hiace Compact, and miles ahead of even the frontwheel-drive Sevel and Trafic. Better still, it's a practical payload, as both axles have very conservative load ratings with test weights evenly distributed, and without a passenger, the Toyota reached its full gross weight with 150kg to spare on the rear axle.
Nevertheless, the Hiace looked distinctly tail-heavy loaded this way, as you can see from the photographs. The headlights were pointing skyward—proof that all panel vans should really be fitted with in-cab headlamp adjusters.
The van also has enough towing capacity for a braked trailer of up to two tonnes. The petrol-engined variant has a slightly lower gross weight of 2,750kg, and a correspondingly lower payload of 1,195kg.
Load volume is 54m3 by the realistic VDA measure—the gross (SAE) figure is 6.0m3. These figures are practically the same as those of the short-wheelbase, standard-roof Transit or Transporter, and the load space is pretty accommodating, with 1.23m between the wheelarches (plenty of room for a EuropaIlet), six sturdy tie-down points and a sizeable sliding side load door. But the tailgate
that is fitted as standard might not suit everyone. Although its gas struts can be adjusted to give an extra few inches of height, there is unlikely to be enough clearance for a conventional fork-lift truck to approach.
The forthcoming high-roof version should give Toyota an incentive to offer twin rear doors as an option.
A significant omission from our test van was a bulkhead: Toyota intends to offer a bartype fitting as an option behind the driver's seat, and the manual shows (rather mystifying) pictures of a "room separator bar" which goes across the load space at shoulder height. A solid bulkhead is not yet available: it would do much to cut down noise and improve safety, but (given the position of the seats) it would protrude into the load area.
Our test van came fitted with a moulded plastic load liner but it is clearly a cut-down version designed for one of Toyota's pickups—a purpose-designed model ought to be available soon.
The Hiace is proof that you shouldn't rely on first impressions. When Mfirst drove a very low-mileage example last year, we found it rather gutless, and said that it felt undergeared-we were constantly looking for sixth gear on open A-roads. But this vehicle, with a few more miles on board, revs far more freely and feels quite at home on the motorway.
Mind you, high speeds in the Hiace may not be all they appear: "our" van's speedometer reads around 9% fast at 60mph, and is hovering around the illegal 10% mark at 30mph.
However, the van is easy to drive at all speeds, with a snatch-free driveline for trickling round town and smooth power delivery at speed. When laden at high speeds the extra boost of a turbo-diesel would be welcome, but otherwise the van performs well.
There's a sizeable gap between third and fourth gears, but the gearchange is light and quick, as you'd expect from the Japanese.
All-independent suspension promises good ride and handling, and the Hiace delivers. The ride is exceptionally smooth with or without a load, and the handling is equally good. Fully laden, we took it round a twisty, off-camber section of test track and, though grip was definitely in short supply, the van did nothing unpredictable or alarming. And it was pretty stable at motorway speeds, without reacting too badly to crosswinds.
The steering is rather light and sharp: this is fine round town, but it takes some getting used to on the open road. Unfortunately, wet conditions prevented our testing the Toyota's brakes properly, but subjectively they are sharp and controllable, if (again) a little light in feel.
Japanese van interiors have traditionally been an exercise in how much grey you can cram into a cab: grey upholstery, grey vinyl trim and a grey plastic dashboard-even grey switchgear. Sadly, the new Hiace does nothing to break out into other colour schemes. it's as grey as any of its predecessors, though it's more comfortable than previous Japanese models and the European-style driving position makes entry and exit much easier.
The controls are all simple and straightforward, with the exception of the fuel flap lever, cunningly hidden beneath the driver's seat. Stowage space is fair, if a little peculiar: there's a tiny glove compartment atop the passenger side of the dashboard, while the rest of the dash bulges (and restricts leg room) as if it were hiding an air bag, which it isn't.
There is a much bigger centre oddments bin, but it's hinged at the bottom and looks like a jumbo ashtray.
Noise levels are OK, considering there's no bulkhead, but the Transit (even before last
year's facelift) can keep the noise down better, The overall impression of the cab is to look practical, though it lacks the plushness of the Transit. A good effort-just rather grey.
Despite one of the daftest names in Christendom, the Hiace Power Van turns out to be a thoroughly serious vehicle: the payload is astonishing, the loadspace is practical (despite our reservations about the tailgate), performance is reasonable and handling is excellent.
Fuel economy is a little uncertain at the moment, but we can expect the laden figure to better the Hiace Compact's competitive 28.7mpg. Mind you, the Compact itself could be tempting if you were not too interested in long-distance driving: a local dealer is offering it last stocks at almost £3,000 less than the wer Van.
The new model's main limitation is the same as for the old model: there's just one flavour of Hiace, unlike the bewildering choice of European models. But if it suits your needs, the Hiace Power Van is good value-and a far better van than either its predecessors or its Griental peers.
Yup... Europe should be frightened.
II by Toby Clark